Spotlight Fantasy Flight Games' 2006, Part 1: Big Box Games
The Game Manufacturers Association trade show (GTS), is in full swing in Las Vegas and Fantasy Flight Games has announced a shoppingcart full of gaming goodness heading our way for later this year.
If you're like us and sometimes enjoy involved board gaming goodness along the lines of the multiple hour sessions of Axis and Allies and War of the Ring, then Fantasy Flight 2006's Big Box Game lineup should both tickle and smash your frontal lobe like dumpster full of feathers. "Big Box" games are titles chalk full of tons of pieces, large boards, and complex rules, but yet somehow remain open and inviting enough for we non war gaming grognards.
Topping the list is the board game adaptation of the Blizzard Real Time Strategy PC Game: Starcraft. Fantasy Flight has had tremendous success with their conversion of the World of Warcraft MMORPG to an RPG board game title, but mapping an RTS PC game to a board game is a wee bit of a stretch for an automatic runaway hit. We're very curious how this one will play-out.. here's the officially unofficial company line so far:

From Fantasy Flight Games' 3/16 'Rant' from Greg: "[Starcraft] features a large central game board depicting the Starcraft galaxy, as well as nine separate smaller boards that each represent a specific planet in the Starcraft universe. Players will control the familiar Terran, Protoss, or Zerg space and ground units in a bid for domination of these nine worlds. The combat system is fast and diceless, featuring an innovative mechanic that utilizes transparent plastic game cards. The game will feature dozens of beautifully sculpted plastic figures, dozens of cards, lots of high-quality cardboard tokens and markers, a large game board and several mini-boards, and all of the other great components that pack our epic-size games. Starcraft: The Board Game is scheduled for release in October.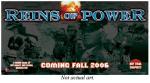 The two other Big Box Games take place right here on planet Earth. "Reins of Power" is a game of near-future global supremacy where players wear two hats: they act as the leader of an existing world power (such as the US, EU, China) but the also act as domestic opponent to an opposing player. In this second role players will inhibit their opponents actions from the inside-out, like a political rival stepping in the way, or like Greenpeace driving a boat through an offshore oil derrick. The game's tension points probably won't be battles, but global hotspot outbreaks like famine and terrorism. Quite the interesting dynamic, and a perfect topic for these modern days. Reins of Power is due in September.
The WWII squad based war game "Tide of Iron" brings up the rear. Not much is yet known about this December release other than there will be gobs of pieces to push around the dynamic (configurable) tactical battle map. Sounds pretty good to us.
I'm sure we'll hear more from Fantasy Flight's 2006 Big Box games when GTS wraps-up and they have the time to write some game previews. We'll keep you posted.
Now, Fantasy Flight's 2006 lineup isn't entirely comprised of these marathon war games (but in our eyes they're the main drool factor of the release schedule). Tomorrow we'll give you the lowdown on some other F.F. products set to ship this year, including expansion packs and something that the Marvel comic kids might enjoy.
Read More in: Gaming News
Share this Article with others:
Related Articles:
Came straight to this page? Visit Critical Gamers for all the latest news.
Posted by Critical Gamers Staff at March 15, 2006 3:49 PM