Take Me On in "Scene It: Music Edition"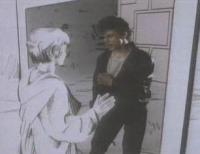 The popular DVD Trivia franchise "Scene It!" recently released their Music Edition of their game to the feathered-hair masses. The Scene-It line of approachable titles couple DVD Technology! (tm) with the standard Trivia board game, and are great for dinner parties, the lake house, rainy days, etc. This musical flavor is an obvious no-brainer for anyone raised by the surrogate-parent of the 1980s, MTV -- which is just about everyone who popped a zit in that decade.
Here's the company line:
Now Music Scene It? turns a flat board game into a 3-D multimedia match with unforgettable songs, favorites and classics old and new. Features real clips from the best music labels and artists. Includes music game DVD, Flextime game board, one six-sided dice, one eight-sided dice, four metal musical character movers, four category reference cards and 160 trivial cards with three questions each and an additional 30 music buzz cards. For two or more players.
You can order it online at Funagain Games or Amazon.com. Enjoy!
Read More in: Board Games | Gaming News
Share this Article with others:
Related Articles:
Came straight to this page? Visit Critical Gamers for all the latest news.
Posted by Critical Gamers Staff at January 31, 2006 5:36 PM