Pass The Pigs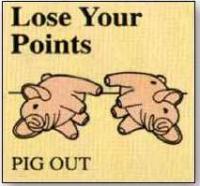 Pass the Pigs has been a favorite pastime of ours for years. Once a week we head to the bar to take-in one of the local bands. We show up on the early-side to grab good seats, and then break out da pigs to kill time. This is a great game for playing on-the-go while waiting for something (anything) to start - a concert, fireworks, or to entertain yourself on a long flight, train ride, etc.

The game is simple; toss a pair of pigs across the table and score points depending on how they land. Is a pig pulling a razorback? 5 points. Is he leaning a Jowler? 15 points. Continue to toss and score points until you call out a "Bank!" (Cardsharks anyone?), at which time you lock-in your score. Then pass the pair of pigs on to your friend. But don't get too greedy - if you Pig Out (one pig dot-side up , the other dot-side down) then you lose all the points you've accumulated since the last Banking. The first person to 100 points wins.
Yes - we realize we could play this same game with a simple set of dice, but where's the fun in that? Half of the game is tossing these little rubber pigs to see how they land, the other half comes from your ability to play against your friends' karmic potential.
Serious strategy gamers need not apply - Pass the Pigs is simple, social and fun.
Read More in: Board Games | Our Game Reviews
Share this Article with others:
Related Articles:
Came straight to this page? Visit Critical Gamers for all the latest news.
Posted by Critical Gamers Staff at February 1, 2006 11:29 PM