The Simpsons Duff Dice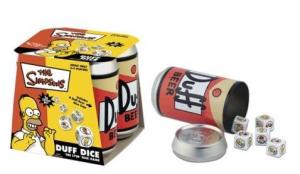 Before you roll your eyes at a cheap commercial dice game, know that
The Simpsons Duff Dice
[
Amazon
,
Funagain
] is based on the proven classic
Liar's Dice
. If you haven't heard it before then it goes a little something like this:
Everyone rolls Dice in a hidden cup, slapping the cup upside down onto the table like a drunken four-fingered pirate. Then each player growls at the other, sneaking a hidden peak at their dice to see how many common numbers came up in their cup. The round continues as players take turns estimating - or bluffing - how many dice across the entire table have a particular number.
Given a result of four "2"s in your cup, you might predict that there are eight two's in your five player game. The next player either calls your bluff, or increases the bid to beyond eight, using any dice result number he/she wishes.
If your bluff is called, then everyone lifts their cups. If you were found-out to be dead wrong, then chug your Duff. Otherwise the skeptic kicks back his own beer in frothy humility.
A simple, elegant, and proven party game (7.2/10 BGG) with a Simpson's motif. What could go wrong?
The Company Line:
The dice don't lie but you might have to in this fast-paced game of lyin' and guessin'. Do you have what it takes? To stay alive in Duff Dice, you must bluff -- or be bluffed. To win in Duff Dice you must lie, lie, lie your way to victory. Woo hoo!

Packaged as a four-pack of beer, this classic liar's dice game includes 4 collectible Duff Beer Cans, 20 custom dice featuring your favorite characters from Moe's Tavern and a Duff Beer shopping bag for easy storage.

Contents:

4 beer-can dice cups
20 custom dice
Rules
The Simpsons Duff Dice is now shipping from Amazon and Funagain Games.
Read More in: Gaming News | Party Games
Share this Article with others:
Related Articles:
Came straight to this page? Visit Critical Gamers for all the latest news.
Posted by Critical Gamers Staff at August 29, 2007 4:20 PM