Now Shipping: "Apples to Apples Party Box Expansion 2"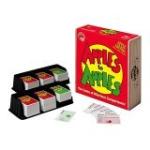 Out of the Box Publishing has announced that the latest expansion to their award winning Apples to Apples party game has shipped to stores. Apples to Apples Party Box Expansion 2 [Funagain] extends the content of the original 4-10 player game by adding half a thousand cards to the mix. Yikes. That's uh, a boatload of cards.
The Official Line: The game of hilarious comparisons. The laughter continues! These beautifully crafted wooden creates hold the same cards as the Apples to Apples Party Box Expansion Sets. Mix the 576 new cards from a Party Crate Expansion Set with the cards from the Apples to Apples Party Crate for thousands of new and outrageous comparisons!
The original Apples to Apples [Amazon, Funagain] is a fast and fun word-matching card game meant for large groups of people. Players create comical associations of names (nouns) and characteristics (adjectives) in order to score points from the judge-player. The rotating judge mechanic means that players and constantly altering their creative juices to appease different senses of humor.
There's a great video tour of the game on OutOfTheBox Publishing's official web site. Or if you're gruff like we are, and you'd rather skip the smiling, laughing marketing-guy, then we also have a short overview of Apples to Apples here.
Read More in: Gaming News | Party Games
Share this Article with others:
Related Articles:
Came straight to this page? Visit Critical Gamers for all the latest news.
Posted by Critical Gamers Staff at June 7, 2006 10:46 AM