Critical Gamers 2007 Holiday Gift Guide - Party Games
For more great gift ideas across all genres of games please see our
Holiday Gift Guide Index
Sometimes a gamer only shows their true colors in a group. These are the exhibitionist folks who like the social elements of gaming far more than the cerebral head game of strategy games and wargames. And sometimes the night dynamic doesn't present itself well to static boards, either, so even the social elements of family board games seem too dull and mundane for the midnight oil.
In our continuing series of 2007 Holiday Gift Guides we dive into the world of party games and arm you with the best suggestions for giving that party gamer the best gift this December. And for those of you who are also looking to host a bitchin' Holiday / New Years Party: we also have something for you, too.
We have to warn you though: even though we're mainly a board game site, some - but not all - of these party games require electricity from the magic wall holes.

Wits and Wagers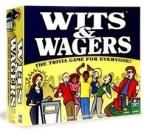 [Amazon, Funagain]
[Our Review]
Wits and Wagers surprised us somewhat earlier this year. This nice little trivia game doesn't require you to know the correct answer but generally ballpark it, in fact the questions are so obscure that you can cross your buttcheeks and guess at the answers. For instance, in what year did Ben Franklin fly his famous electric kite trick? Sure, perhaps someone knows the answer off-hand, but chances are you don't know them, or soon would care not to after you find out they've driven down 9 levels of dorkish historic obscurity.
The game does a great job of leveling the trivia field through its cool take on scoring. Players write down their answers in the first stage in the round, and then in the second they use chips to bet on the one they feel is the closest to the real answer without going over. There are odds payouts easily calculated through simple board mechanics based on the group's guesses.
Thats it, repeat 7 rounds and have some fun! The gobs of questions are perfectly balanced, the game is fast, and dynamic, and fun. A great pickup and a middle ground between gamers and trivia buffs that makes Trivial Pursuit seem like a dinosaur.
Winner of Games Magazine's best party game of 2007, GiftTRAP is in many ways an evolution of the great matching techniques of the elder Apples to Apples party game. The game is really a good time among friends who know each other well; strangers will not be as easily amused, however,
That's because this a game all about knowing the folks who sit around you. Players of GiftTRAP are presented with a series of gifts drawn randomly from the game deck. These could range anywhere from a pet poodle, to an adventure vacation, to a set of china plates (hint, we don't want that one). Players then look around the table and judge who will like each gift the most. Seeing as each gift can be given only to one person, players must weigh for themselves how they divvy up their sack of presents to please everyone at the table, even if they have to give a lump of coal (maybe someone is a geologist).
Everyone works off the same group of gifts, so the other players do the same secret gift giving selection as you are.
Then in the next step of the round, you yourself rate which presents you want the most. Players reveal their selections and points are awarded to those who have given gifts to the people who've wanted them the most. If a player gives a gift to someone who doesn't want it, then Sorry! Negative points for you.
GiftTrap is a fun game, but also one of those games where you learn something about your friends in each session. Hilarity also ensues for groups who know each other well, since some of the gifts are really, really out there and you have to give at least something to everyone.
Rock Band

[Xbox360, PS3, PS2]
Guitar Hero III
[Xbox360, PS3, PS2, Wii]
No, we aren't going too far in this pick of a mainstream fad that is the Rock Star / Guitar Hero gaming. We've been a fan of Guitar Hero since it hit the stands a few years ago, so we're veterans at this stuff, and it quickly become our party game of choice throughout the winter months. Sometimes in the summer we'd drag the TV or a project out to the driveway and have Gutiar Hero BBQs from Dusk to midnight. It's that good.
The series has gotten better and better over the years, and with very iteration we think to ourselves "isn't this iteration just more of the same?". But each time a new title in the series is released we're happy to find out that it's most certainly not tired, or boring, or mundane. It's still awesome. The games' series of songs have kept things fresh, and new gaming elements make the experience even more betterer. Yeah, youz heard us.
Guitar Hero 1 started off the series and featured head to head rock competitions. Guitar Hero 2 introduced cooperative play. Guitar Hero 3 has one of the largest set lists in the franchise, and Rock Band takes the series to the next plateau by introducing drums to the game.
Yes Drums.
Guitar Hero has been traditionally played on a plastic controller 1/3 the size of a normal guitar. You wear the thing and feel dorky for about 30 seconds - but once the game kicks in the room disappears and your drawn into your favorite rock songs from the 1960s, 1970s, 1980s, 1990s and 2000s. Yes, four decades of rock action spanning from the Stones to the Red Hot Chilil Peppers, and the game's skill levels gently introduce new keys and chords to the game making the learning curve perfect for gamers and non gamers alike.
The game presents a series of notes streaming at the player. The "gutarist" must use their left hand to press a series of colored fret buttons matching the pattern flying at them on the screen, and strum with their right hand when that pattern reaches the bottom of the TV. Easy Peasy Right?
It also just so happens that it's a freaking truck load of fun, too. We've played the game with all sorts of walks of life, with shy non-gamers, gamers, and even a rolling video game series at the local bar which as been hijacked by Guitiar Hero for the past two years. Old people, young people, stiff people - we're pretty sure that even The Man would melt into a puddle of mojo if he strapped on a Gutiar Hero controller and had at it for three songs.
Here's some footage of what we're talking about:
While you watch these two yahoos plug away note that the game starts off a heckofalot easier. So those who aren't die hard still should apply.
The question on your mind should now be: Guitar Hero or Rock Band, which shall I ever pick? We'll make it easy for you. Pickup Guitar Hero if the series is new to. Purchasing a Guitar Hero III Bundle (inks above) nets you the game and also the mandatory guitar. It's the perfect introduction point to the franchise.
Rock Band (links above) is the next step, with a full fledged drum set. New players might find that a bit too off the deep end - or a bit too intimidating. Those players already bitten by the Guitar Hero bug will find them drool worthy, and if you are somehow able to get your hands on a Rock Band set for the Holidays then they will worship the ground you walk on. Period.
Scene It?

DVD Board Game: [Amazon, Funagain]
Xbox 360 [Amazon]
The Scene It? series has been around for a while; if you haven't heard of it yet then your group is into movie trivia then stop right here because you're in for a treat. This DVD board game uses your TV as a prop for some great movie trivia. The TV plays a videoclip and then you use a card in your hand to ask questions about what you've just scene. Who was the director of the movie? What year did it come out? Or even the more obvious question: What was the main character wearing?
Well this year the game takes the leap to the magic Xbox 360 as well. Playing the game off a DVD player is great, but face it: the machine is pretty dumb. Enter the Xbox which has a slick visual presentation, custom buzz-in controllers, and more questions and variations off of each scene. There hasn't been a better gaming trivia game since You Don't Know Jack in the late 1990s.
Scene It? for the Xbox 360 is the perfect gift for a movie buff who just happens to have a gaming system sitting beneath their television.
Read More in: Gaming Culture | Party Games
Share this Article with others:
Related Articles:
Came straight to this page? Visit Critical Gamers for all the latest news.
Posted by Critical Gamers Staff at November 20, 2007 2:17 PM