"Articulate!" with Feeling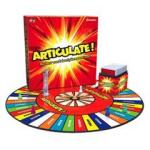 We've been on a pretty heavy regiment of war gaming news lately. Sometimes when it rains pretty flowers it pours stems, too... or something like that. If you're not following the train of thought here then it's probably because you're sane. Well done.
Anyway, we were just flipping through Amazon's catalog and a party game called "Articulate!" caught our eye (the exclamation point means it's exciting!) Aside from the flashy graphics and cool product description, the game has some pretty good user reviews, too. Here's the company line:
Outrageously simple, fast and hugely entertaining, Articulate challenges a member from each team to describe as many words as possible to teammates in just 30 seconds. It's a ramped-up version of Charades but you can't say classic Charade phrases like "rhymes with" or "sounds like." Passionate rivalries, animated banter and helpless laughter will break out in this fast and fun game that hits the mark with family members of all ages. Game includes one game board, 500 question cards, 4 player tokens and a timer. For 4 or more players, ages 12 years and up.
Sounds like a cool little cross between "Trivial Pursuit" and our favorite party game "Celebrity". Unfortunately the title is out of print, so Amazon doesn't have many copies. Don't fret, though, because AreYouGame.com has it in stock! (unless we buy the last copy :). Enjoy!
Read More in: Party Games
Share this Article with others:
Related Articles:
Came straight to this page? Visit Critical Gamers for all the latest news.
Posted by Critical Gamers Staff at July 25, 2006 4:30 PM