Celebrity - A Free Party Game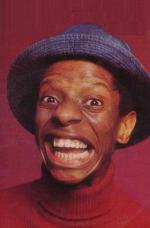 Despite the genre's name, there are some parties that aren't conducive to party-gaming. You know what we're talking about - when your gathering is going great, and everyone lounging, laughing and cruising through a PBR 12 pack, you wouldn't dare mention the idea of breaking out a "box" and setting up a board.
We've been there. Selling the idea of a game to a ragtag group of people can be near-impossible. Yet whenever someone mentions 'Celebrity', a game that we've played at quite a few late-night occasions with various groups, everybody's ear perks up.
Why? Because Celebrity has something for everybody. It can break the ice between strangers, cure disease, stop war, and align the planets into orbits of peace an harmony. Yeah - it's got a lot of things going for it.
Here are the rules:
1: Split the group into two teams. The game lends itself for some great Guys vs Girls gameplay.
2: Everyone gets five strips of paper, a pencil, and a few minutes to jot down some random celebrities. It doesn't matter how these celebrities became famous -- they just have to be widely known people. Say... movie stars, sports stars, world leaders, fictional characters, astronauts, televangelists, muppets, you get the idea.
3: Once everyone finishes writing down their celebrities, the slips of paper are folded in two, and placed in a hat. Mix them up.
4. Grab a watch. Set it to 1 minute countdown.
5. Round One: One person from a team, say the Ladies, has to pull a name out of that hat and offer clues to who the person is. It's their team's job to guess the right name. The only rule for this first round is that the reader can't say the celebrity's name. If they do then they must discard the name, draw another, and the team loses a point. After one minute, add up the number of correct guesses, subtract the number of faux pas (and put those back in the hat), and add them to the team score. Then a person from next team goes. This continues until the hat empties.
6. Round Two: Do the same thing, but now the reader can say only 1 word. Ah, now things get interesting, especially when the Guys wrote down someone that the Ladies don't know, and vice versa. We offer this hint to the reader: If you can't think of a word to say as a clue, then use a word someone else blurted as a comical misguided guess from round-one. The comical word-association is strong because it's recent, and because more than likely everyone laughed at it (There's gotta be some fascinating psychological study that links social humor with strong memory recollection, but we haven't read it.)
7. Round Three: The same hat-pulling process continues as it did through round one and two, but now the reader can't say anything! Charades is usually a boring game left to elder baby boomers, but we swear it absolutely rocks here.
We're telling you - this game has something that everyone will enjoy. The "game" aspect of thinking of how to chose the exact one 'right' word to say, how to act, etc, given the descriptions of Celebrities from prior rounds, is pretty deep. Also - people are standing up and making a mockery of themselves, and those who would normally scoff at the idea of a party game will still find something to point a finger at and laugh their butts off at. It's a Win-Win situation all-around.
Someone just poked their heads-in with a few late words of advice. First off - don't start this game too late into the night. Celebrity doesn't sound like an epic game, but it can take well over an hour to play. Secondly, don't play when people are insanely drunk, because things.. can go terribly wrong. Trust us.
Other than that... Best party game ever, and it's FREE. Happy birthday.
4 stars out of 5 Our Critical Raiting System
Read More in: Our Game Reviews | Party Games
Share this Article with others:
Related Articles:
Came straight to this page? Visit Critical Gamers for all the latest news.
Posted by Critical Gamers Staff at June 16, 2006 2:12 PM