Paranoia Mandatory Cardgame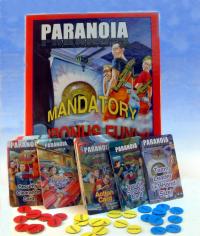 We just finished a power session of Paranoia and we thought we'd get some thoughts down while still riding-out that aggressive high. Paranoia is a simple card game set in the quirky future-world conglomeration of B-Side Sci Fi Horror; it's a future-time where civil liberties and common sense simply don't exist, and where an all-knowing machine assigns your group missions to complete for the 'betterment of society'. During these missions your goal is to appease the machine by completing missions detailed on a randomly drawn card, but you can also win points by identifying (or more like set-up) your friends as traitors to the all-seeing social machine. The computer will then kill-off your friends and reward your policing ways with a higher security level (read: more health and more traitor resiliency).
The game sounds complex, but it's very lighthearted and the cards have some hilarious flavor text. This is a game best played with a large collection (5+) of your angst-filled friends who've no qualms about selling you down the river. Now, everything about this game isn't Roses - This game could get old after 10 or so sessions when the quirky flavor text loses it's cutting humor. But if you play this game at a fast pace, and play it with folks who you've compiled notebook of vendettas against, then a night of Paranoia will be simply bleed-time away.
Of course, drinks don't hurt either.
Paranoia is definitely worth the money for a group likes to work-out stress in a deconstructive way. For us, it's a no-brainer -- officer Friendly told us to stop leaving those flaming bags of poo on Mrs Frosts' front porch, so we need something else to do. Err.. Not that those bags contained our feces, Friend Computer. We were simply trying to get rid of them in the most hygenic way possible.
Read More in: Board Games | Our Game Reviews
Share this Article with others:
Related Articles:
Came straight to this page? Visit Critical Gamers for all the latest news.
Posted by Critical Gamers Staff at February 6, 2006 11:45 PM