Now Shipping: "Fire & Axe"
Publisher Asmodee has just shipped their English edition to the 2004 hit Viking Fury, a game which has been received very well over seas. But before you put on your pointy hat and, uh, sharpen (?) your hammer, know this: Fire & Axe [Amazon,Funagain] is less about the burning and pillaging of Medieval abbeys, French coastal villages, and West London cafes, but and more about founding the most powerful Viking civilization to every rule your table top.
But that doesn't mean you don't get to bust a few heads along the way. The game starts all nicey nice, sipping sheeps head cocktails in Scandinavia, but then players race and claw to found new Viking colonies across the North Atlantic, sack towns, and toss an axe at an opponent or two. The game stresses strategy, but it's not a wargame. There are some social aspects of the gameplay, to, so best find at least three to tackle this one (and works with up to five).
Here's the official word: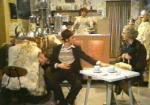 "Trade, raid and settle the world of Middle Ages Europe. Sail the seas to the end of the world. Fight bravely under the Raven's banner and bravely enter Valhalla! Make the civilized world tremble and priests fervently pray "Lord, save us from the fury of the Northmen".

Fire & Axe gives players a chance to take on the role of Vikings traveling between 750 and 1020. Each journey begins in Scandinavia, where crewmen and goods are loaded and the runes cast. During the journey, you will trade with the locals, raid them for treasure or try to establish settlements. If you can, you may try to accomplish sagas which will be repeated by the skalds.

The speed at which you will gain riches and notoriety will determine how great a mark your Viking will have left on Middle Ages Europe.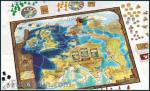 One caveat about the game: The map on the game board is absolutely stunning. Like a piece of art, it's also cloth, and if that upsets you then pray that you don't drive a blue Toyota pickup truck -- because we think that Viking just ralphed some daube de boeuf in the back of it. Yeah, he's 'Mr Tough Guy', smashing heads and tossing kegs 'till he eats the rich foreign food. Oh.. ugh.. yuck. Wait... hold his beard back.
Fire & Axe [Amazon,Funagain] is now shipping from Amazon and Funagain Games.
Read More in:
Share this Article with others:
Related Articles:
Came straight to this page? Visit Critical Gamers for all the latest news.
Posted by Critical Gamers Staff at March 23, 2007 10:11 AM