Now Shipping: Carcassonne the Tower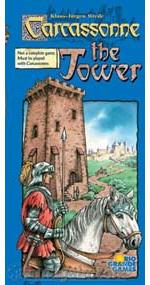 We love Carcassonne, and the time has come for taller, better things. Gamers rejoice. The "Carcassonne: The Tower" expansion is now shipping, and we haven't been this excited since Christmas. No, seriously.
If you haven't already picked up a standard copy of Carcassonne (our review) then you're missing-out on one of the most simple and fun games around. We haven't tested "The Tower" yet, but we've got high hopes for the title until we can get a copy in for review.
The game's new tower pieces (images found here) allow you to kidnap and ransom opposing player's farmers. The taller the tower goes the more farmers it steals. Considering how powerful farmers are in the original version of Carcassonne, these new peasant vacuums should definitely stir things up quite nicely.
Pick-up a copy of "Carcassonne: The Tower" for the cheap - here.
The Company Line:Players may capture opponents' followers, holding them in prison. Later, the players may arrange a prisoner exchange, to the advantage of the players involved. Also, a player may arrange to pay ransom for the return of an imprisoned follower.

Fans of Carcassonne will enjoy the new tactical opportunities offered by this expansion. The expansion also includes a special tower for storing the landscape tiles, giving players a convenient way to draw tiles during the game.

Read More in: Gaming News

Share this Article with others:

Related Articles:

Came straight to this page? Visit Critical Gamers for all the latest news.

Posted by Critical Gamers Staff at April 19, 2006 10:08 AM