WoW TCG Naxxramas Previews Come Just Before the Storm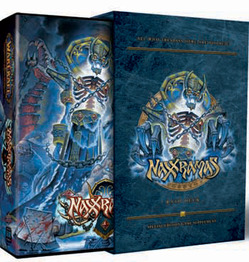 We thought we'd be playing the Naxxramas Raid Deck by now. We're jonesin'. At first we heard it was slated for release on Tuesday of this week, but now we see that Troll and Toad has it listed for December 24th. A game scheduled to ship from warehouses on Christmas Eve? Who thought that was a good idea? Seriously.
Well there's good news in this. Upper Deck has decided to tide us over with another peek at the raid with "Naxxramas Preview - How Eventful!" Those with pun detectors and raid experience might have picked up that this is all about the raid's Event cards, which are usually dolled out when one of the minor bosses hits the ground with double X eyes.
The main interesting thing we see here is the new role of the Raid Leader. One player will be placed in charge of speaking for the team when it comes for confrontations with the player controlling the bosses. Interestingly enough there's an event - which are normally evil - that makes the Raid Leader choose from drawing multiple cards for himself, or letting his teammates draw cards.
An event that puts cards into your hand? These things usually cause you pain; we can't see why Upper Deck would make life easier for the raid. Now, there is another event card that forces players take damage if you're holding too many cards, but this seems ... not so severe, and the combo would have to be drawn just-right from a deck of shuffled cards. Interesting.
Anyway... the raid launches next week. For reals (we think). We'll let you know when it actually starts shipping from stores. Until then, happy holidays!
Read More in: Collectable Card Games | Gaming News
Share this Article with others:
Related Articles:
Came straight to this page? Visit Critical Gamers for all the latest news.
Posted by Critical Gamers Staff at December 18, 2009 4:45 PM