WoW TCG: Drums of War Preview Card in Stores Now!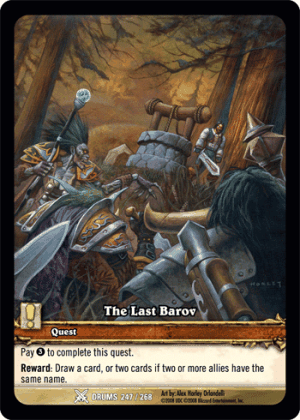 Upper Deck has just announced a slimline promotion for it's next World of Warcraft Trading Card Game release, Drums of War. Those of you interested in getting a nice special run of The Last Barov - with slick extended art that screams collectible - and you can't or don't want to attend any preview events, then things just got easy for you:
---

"Want to get your hands on an exclusive promo card from the upcoming WoW TCG expansion, Drums of War? Head in to your local store and spend $10 on any World of Warcraft Trading Card Game products, and you'll walk out with an Extended Art copy of The Last Barov!"

---
The card The Last Barov is surrounded by a family fued between the last remaining Barov Brothers. There are actually two remainng brothers, but one of them is a walking corpse named Aelxi who can't vote, hold his liquor (literally), nor get health insurance, so he's not technically part of society. Therefore we can only assume The Last Barov refers to his slightly more pompous brother Weldon. More information on the Barov family tree and their influence on the Drums of War expansion can be found in the official Upper Deck Preview Article Player vs. Player Hater.
And you in regard to the giveaway program, check to see if your local game store plans to participate here. Enjoy!
Read More in: Gaming News | World of Warcraft TCG
Share this Article with others:
Related Articles:
Came straight to this page? Visit Critical Gamers for all the latest news.
Posted by Critical Gamers Staff at October 13, 2008 11:50 AM