Warhammer Online E3 Interview at Gamespot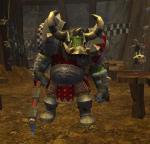 Gamespot.com has an absolutely fantastic interview with Warhammer Online Design Manager Paul Barnett. Paul eats Warhammer-Os for breakfast, sweats Warhammer design ideas out his eye sockets, and we're pretty sure he swallowed a vial of No-Doze before the interview, too. Just follow this link and click on "Warhammer Online: Age of Reckoning 2006 Stage Show Demonstration" from May 11th, and you'll see what we're talking about.
Now, as a whole we're a bit burnt-out of all the Massively Online Role Playing Game madness, but the ideas in Warhammer sound fan-flipping tastic. Imagine a Goblin pet class where your 'pet' eats you, and you control it from the inside - pulling ligaments and intestines to steer the giant, romping, living siege machine as it smashes through trees and buildings. Awesome.
We'll let the video fill you in the other details, including the Player vs Player gameplay that includes city sieges where you can "blow the living hell out of everything". Sounds Warhammerish. Sounds fantastic.
Paul also has a series of Video Blog entries that he makes in the office with his cellphone camera. These aren't nearly as entertaining as the E3 interview, but if that video interests you then check-out his blog for some more cool tidbits.

Read More in: Gaming News | Variants
Share this Article with others:
Related Articles:
Came straight to this page? Visit Critical Gamers for all the latest news.
Posted by Critical Gamers Staff at May 26, 2006 10:28 AM