Warhammer Marches on PCs this Fall

The gritty table-top universe of "Warhammer" is slated to get two PC treatments within the next year. Warhammer: Mark of Chaos, a PC real time strategy game from Namco and Black Hole Games, is scheduled for a Q3 2006 release. This should be the closet thing to the Warhammer tabletop experience that the PC has received to date. Players can paint their various unit types using a virtual paintbrush (more like selecting from a color wheel), and provide units with different weapon sets, shield emblems, armor - the works. There should be gobs of options, enough-so that your multiplayer units will have a unique coloring and style and will be easily recognizable on the battlefield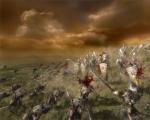 Mark of Chaos will include four Warhammer races from the system's fantasy setting (not the futuristic 40K universe): the human empire complete with rifles and cannons, the fantasy-themed high elves, the rat-men scaven, and the dark human Chaos. The game will sport an overarching strategic battle map that drills-down to the tactical level for the gorgeous real time battles of smoke and blood. Consider miles of rolling terrain in which you position troops to garrison buildings, construct forts, etc, or line-up your forces behind rivers, walls, and hills to ambush your opponent when his army makes that inevitable march into your territory. This isn't a base-building real time strategy title (like Relic's PC Warhammer title Dawn of War), but an army pushing set-piece war. Yes, Mark of Chaos is turning into quite the looker.
Also coming down the pipe is Warhammer Online: Age of Reckoning, a massive online role playing game (MMORPG) from the folks at Mythic Entertainment (Dark Age of Camelot). Information about this title has been sparse until about a week ago when the first true details were released to the press.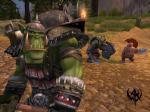 From the official press release: It is a desperate time for the Emperor. A terrible Chaos Plague defiles his lands, ravaging the populace and weakening his armies. Meanwhile, the Dwarf holds in the nearby World's Edge Mountains have come under siege by a massive greenskin horde. Honor-bound by an ancient oath, the ruler of the greatest nation of men in the Old World has dispatched several regiments to assist the embattled Dwarfs, further depleting the Empire's already thin defenses.

In this dark hour, a new threat appears. Under a sky darkened by a crimson eclipse, a great warhost erupts from the wastelands of the north. Bearing the banner of Tzeentch, Changer of the Ways, the army of Chaos marches south for the borders of the Empire, crushing everything in its path.
Mythic also recently released the first trailer for the game, here. It's short, and definitely a good start graphically, but the trailer doesn't serve as a technical demonstration on how the game will play. Will the MMORPG conversion do justice to the massive battlefield of Warhammer's table top standard? This is a major concern for us, but considering Mythic's massively online RPG track record, and Dark Age of Camelot's groundbreaking player versus player war modes, we're content to wait patiently for a little while more.
Warhammer Online: Age of Reckoning is slated for a 2007 release. We'll keep you posted as more information is released about the title, probably at the Electronic Entertainment Expo mid-May. For now you can find more information and sign-up for their monthly newsletter on their official website, here.
Read More in: Gaming News | Variants
Share this Article with others:
Related Articles:
Came straight to this page? Visit Critical Gamers for all the latest news.
Posted by Critical Gamers Staff at March 30, 2006 2:40 PM