Warhammer Online Age of Reckoning: Early 2007 Preview Roundup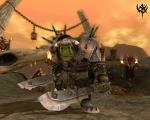 Every few months Mythic Entertainment opens its doors and the gaming journalists rush en masse to research another round of preview articles for Warhammer Online: Age of Reckoning. We're always very excited to read each wave of content about this game, because it really does seem to be shaping up to be something special, but the last couple of preview article iterations haven't really provided us with a lot of new info. It's been a while since we've been wowed by something fresh and new.
However, this time is different. We just entered 2007 - the year that Warhammer Online is scheduled to launch. With the mammoth Springtime E3 tradeshow pushing up the daisies through freshly lade earth, the Games Developer Conference '07 in early March will pick up the slack and carry some of the of glitz and glamor itself, becoming the first major showcase of the upcoming titles for 2007. And lo and behold, Mythic Entertainment seems to have begun to take the wraps off of their baby a month before the show, not only demoing the game to members of the press, but allowing them to go hands-on with the Player versus Player gameplay of their Massive Online Role Playing Game.
Over the last week a lot of our usual PC gaming haunts have posted interviews and hands-on experiences to their websites. Our favorite so far is the the Gamespot Article with the not-so-concise title: "Warhammer Online: Age of Reckoning Updated Hands-On - Bright Wizards, Magi, and More Player Versus Player." [link]. OK, so while the article's title isn't concise, the content is: the two pages are probably the quickest way to get an up to date idea of what to expect out of Warhammer Online. For instance:

"The game will attempt to deemphasize having characters of a specific level ("level 60 wizards" and such), and will instead give your characters ranks (apprentice, journeyman, expert, and so on) whereby your character will advance through certain tiers, picking up new skills, morale abilities, and tactics. Apparently, instead of grinding away at experience levels, your character will constantly gain new abilities. As we saw later in our PVP matches, your characters will eventually learn more abilities than can be easily readied, so there will be an element of preparation and strategy involved in those as well..." - Gamespot
We're also happy to learn that characters in the game actually take up space - that is, you can't run through someone else. The gameplay design builds on that, too, with the inclusions of classes that are specialized on gaining the upper hand of the battle through positioning. For instance, one of the sword and shield dwarven classes are all about breaking through the enemy lines and separating the enemy casters away from their melee protectors. Meanwhile, some of the softer ork/goblin ranged classes do better when positioning themselves on difficult terrain, or on the high ground, so that they can reign their fire down on the enemy without worrying too much about reciprocation from melee classes.
Another great gaming element unveiled in this bunch of reviews stems from this idea of Public Quest Areas. As players adventure through the game they may happen upon an area of the world that launches them into a public quest. The example given in the play test tasked players to recruit a group of peasant farmers into rag tag force. The players were only given a certain amount of time so they had to act quickly. Then the players have to protect the farmers as enemy forces attacked, and if they hold-out long enough, launch a counter attack of their own.
Players don't have to worry about forming groups to take on these challenges, as anyone in the area is invited to help out. Players who do lend a hand will be given a reward based on how much they helped bring the quest to its completion.
Great stuff, and again a new twist to the MMORPG experience. PvP battles with player skills and positioning making the difference, the fantastic visual and background content of the Warhammer universe, and the confidence we have in developer Mythic Entertaininment (Dark Age of Camelot) to create a successful MMORPG: yep, Warhammer Online seriously has our blood pumping. We can wait to see the new content that will be released as we move closer to GDC next month, and eventually into the game's open beta test.
If you're looking for more Warhammer Online articles to peruse then we recommend Gamespy's Article which has four pages of juicy in depth details, and yet another preview from IGN, which has some of the best PC gaming writers on the net.
Well keep you posted of any more Warhammer Online: Age of Reckoning news as it rolls out. Warhammer Onlne is set to ship in the 3rd Quarter of 2007.
Read More in: Gaming Culture | Gaming News | Variants
Share this Article with others:
Related Articles:
Came straight to this page? Visit Critical Gamers for all the latest news.
Posted by Critical Gamers Staff at February 8, 2007 11:36 AM