Twilight Struggle Wins IGA's Best Historical Simulation 2006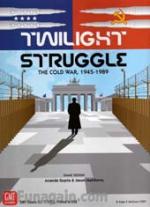 A few weeks ago we reported on the International Gamers Awards list of nominees for 2006, including the 2-player game, multiplayer strategy game, and historical simulation categories. Twilight Struggle (2005) [Funagain], the acclaimed title that simulates the forty-five year dance of Soviet and American influence around the globe, was nominated twice, once in the Two Player game category, and once in the Historic Simulations game category.
Today the IGA committee has announced the winner for the Historical Simulation Category, and Twilight Struggle brings home the bacon. Here's the official press release.
RECIPIENT OF THE 2006 INTERNATIONAL GAMERS AWARDS ANNOUNCED!

The International Gamers Awards committee is extremely proud to announce the recipient for the 2006 IGA in the Historical Simulations category:

The award goes to Twilight Struggle by designers Jason Matthews and Ananda Gupta and publisher GMT Games. Using a card-driven mechanism that recreates the most critical events of the US-Soviet Cold War, Twilight Struggle pits two players in a struggle to exert influence throughout the world in a bid to make their philosophy dominant. Each player must watch closely as the battle for ideology is raged, the Space Race is launched and advanced, and the DefCon track (Defense Condition) monitors the globe's stability. A beautifully-balanced game with multiple strategic levels, Twilight Struggle gets better with each play as further depth is revealed.

The International Gamers Awards were founded in 1999 for the express purpose of recognizing outstanding games, their designers, and the companies which publish them. The awards have gained widespread acclaim and have helped bring these outstanding games to the public's attention.

The individuals who serve on our General Strategy and Historical Simulation committees are extremely qualified, knowledgeable and respected within the gaming hobby. Each and everyone have extensive experience in the playing, reviewing and critiquing of games.

You can learn more about the International Gamers Awards by visiting our website at: www.internationalgamersawards.net
Unfortunately it seems that publisher GMT Games didn't expect all of this great press for their title - the game is pretty darn hard to get a hold of these days. Thankfully there's another printing of the game scheduled to hit storeshelves this October. We'll keep you posted on it's release, or if this date slides either way.
Read More in: Board Games | Gaming News
Share this Article with others:
Related Articles:
Came straight to this page? Visit Critical Gamers for all the latest news.
Posted by Critical Gamers Staff at August 29, 2006 9:59 AM