5 Tips for Empire Total War Beginners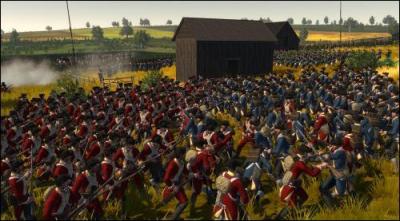 Empire Total War has been out for a few weeks now. It's topping the sales charts so we know that a lot of people are enjoying this title as much as we are. That's a good thing, because the grand strategy Total War franchise has been quite overlooked over the years if you ask us.
With its success comes gobs of new players. Since the game sticks you in the middle of of 18th Century Europe complete with empires ready to explode across national boarders, and the colonization of the new world at your finger tips, we thought we'd give you some quick tips to increase your early game survivability a ton:
1: Start Small, Start Landlocked
The world is a busy place when you start, and it may feel like the game has strapped lampchops onto your arms and legs and slowly lowered you into a pool of sharks when you first startup a campaign. You've got to learn a lot,and fast: Who are your friends? Wheres my money coming from? What buildings should I upgrade? Do I have any religious enemies? Which borders do I have to protect? Who should I attack without gaining the ire from an allied super power? I have colonies in India AND America?! Sweet crap, how do I keep track of all this stuff?
Well thankfully you can make things a bit easier on yourself by picking a 'easy' nation during the campaign selection screen. If you're feeling lost then definitely don't pick England, France or Spain; they have enough going on in any one turn that would make a dolphin seasick. We recommend selecting the Ottomans, Prussians, Russians, Austrians or Swedish. Most of these nations are either land locked, have their back to the wall, or generally are in a strong position at the beginning of the game. Prussia starts with only 2 territories at first so we'll also offer this little nugget of goodness: Sweden is a goldmine, so head north and you'll have gobs of money coming in, AND you'll have an easy to guard flank.
2: Schooling You on Schools
Schools fuel your technology research, which means they lead you to better guns, better troops, and stronger economies, and they can be found in select villages lying around throughout your territories. At first you might have a hard time locating your schools let alone managing them. They are NOT in any of your region capitals, so if you're used to prior Total War games, then time to break those bad habits now.
Clicking on the notebook and flask icon in the lower right not only brings up your tech tree, but also lists all of your schools and colleges at the top. Selecting each school with the mouse and clicking on the magnify glass centers the map on the village the school is located.
Now if you have any Gentlemen, then you want to get them in the schools stat as they can significantly increase your research rate. Look for your gentleman by scanning the map for some regal looking chaps standing around and pondering gravity, or by using the list menu option in the lower right corner of the main strategy map screen. Agents in towns also create a green icon over the town itself, with rakes producing masks and gentlemen displaying a slideruler / mathematical compass icon floating above and to the left of the city on the main map.
Finally, once you have your gentlemen serving as professors to your nation's students, there's one more thing that's not so completely obvious at first: If you have more than one school, then each has to be assigned a different research project. Just as we mentioned before, select your schools in the technology tree menu, but instead of selecting the magnify glass, instead chose a research option from the tree below . With multiple technologies assigned you should see multiple countdown clocks on your tech tree.
If you don't manage your projects with a guiding hand, then you're not going to be able to focus your technology research, which means it's going to be a heckuvalot harder to pursue our next suggestion...

3: Fire by Rank Increases Firepower Three Fold
It's nigh impossible for us to express the importance of this 2nd tier military tech. Your line infantry will become angels of death on the battlefield.
In combat the front row of your Line Infantry will drop to a knee after firing a salvo, letting the second rank fire They in turn kneel, and the third rank fires. That's 3 salvos of fire in the same time it takes your unlearned competitors to fire just one. Best yet, once the first rank hits the dirt. they also start reloading, which means the extra firepower comes at very little cost to firing rate.
With this tech your Line Infantry will be taking out entire squads of enemy Cavalry as soon as they charge in range. Unless they're crack troops then they'll be routing before even laying a sword on anyone's head.
Two things, too: 1. The technology is also applicable to your grenadiers, so rock for them. 2. It does not apply for your militia, so expect them to get chewed up attacking enemy line infantry in the late game when your opponents have the tech as well.

4: Cavalry Is Used to Keep Routing Troops Routing
Cavalry aren't the highly mobile tanks they were in the past. They're dropped their huge armor plating from the Medieval period in order to increase their mobility, both on the battlefield, and on the strategic maps. That means they're no longer kings of the battlefield able to take on even the most crack shock troops.
Until you really get a pulse for battle, use your cavalry to pursue already routing troops -- cavalry do a great job of ensuring those folks don't reform into a line and attack your forces again. Also use your cavalry to charge the sides of an artillery battery left unguarded.
Calvary also really shine on the strategy map. Since they can often outpace your foot soldiers mounted units make fantastic troops to enter into enemy territory for some good ole fashioned building burning. A long term strategy against a large economy includes the harassment of their infrastructure, and mounted troops can get in and out with less risk for your own troops.

5: Diplomacy Diplomacy Diplomacy
Beyond the obvious 'make as many trade relationships as you can' here are some other tips that will make your grand strategy a bit easier to pull off:
Don't forget to extend an olive branch when things get tough. The enemy AI can be more than willing to end a fight on the default skill setting, so long as you haven't just recently upset them, by like... storming their capital city for instance. They might not sign a peace accord for quite some time if you're burning their books, drinking their scotch, and having lamb chops on their King's banquette table.
Also, be wary of which enemies actually hate you, and which enemies declare war with you through simple alliance obligations. If you find yourself in a war on two fronts, and you don't want to make too many blood feuds, then focus your conquering on one nation while you simply stand guard inside your territory against another. That way you don't anger an 'opponent' too much by killing thousands of his innocent civilians.
Finally, don't underestimate the power of a good State Gift. Spending some dough on frivolous gifts for a nation can work wonders winning them over. We've seen enemies that hated us at the outset suddenly windup 'indifferent' because we sent a few prized horses their way. These folks later became our allies after a bit more prodding, and covered our flank through an entire campaign!! Come to think of it.. that was Russia. Perhaps we shouldn't pry too much on what they used those horses for.
We'll be back with more tips in a few weeks. We're quite obsessed with this game, so send us any of your questions or suggestions and we'll try to address them in our next installment!
Read More in: Board Games | Gaming Culture | Gaming News
Share this Article with others:
Related Articles:
Came straight to this page? Visit Critical Gamers for all the latest news.
Posted by Critical Gamers Staff at March 26, 2009 3:03 PM