Tide of Iron Delayed 'Till May 2007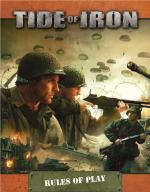 Not a happy bit of news, but it's news all the same. Fantasy Flight Games has decided to delay the release of Tide of Iron [Funagain], a big box WWII war game set in the Western Europe that we've been drolling over for almost a year! According to the official website, Fantasy Flight had encountered some difficulties from the initial run of the game: the boards warped easily. And instead of the PR nightmare of releasing a shabby war game system, they've elected to retool the factory machines to produce boards of higher stock. A good bit of news there, if you're an optimist.
So now the release of the game is set for early May, 2007. Patton would scowl and squat a brick on this delinquency, but he'd also probably slap a Warped, Spineless Board, too. 'Lack of quality is a lack of good, morale fiber!' /George C. Scott.
So.. we'll just have to sit quietly and be content with our WWII at Games By Email for now.
In the meantime feel free to peruse our previous coverage of Tide of Iron from the last few months:

Read More in: Board Games | Gaming News
Share this Article with others:
Related Articles:
Came straight to this page? Visit Critical Gamers for all the latest news.
Posted by Critical Gamers Staff at March 28, 2007 9:59 AM