Tide of Iron WWII Board Game System Expands Big Time with Days of the Fox
Sweet day of days. The Expansion to Tide of Iron - our favorite wargame of 2007 - has shipped to stores. Days of the Fox [Funagain] includes gobs of new armor units, vehicles, and a new set of board tiles for the North African Campaign scenarios included within. The game also ships with a few Panther Tank pieces for future expansions and custom scenarios ( since the Panthers didn't quite make it to Africa
As you may recall in our prerelease coverage the game also ships with new Anti Tank guns, which could be quite the explosive joy to play with. The King of the Battlefield in the traditional Tide of Iron game was the machine gun nest which pinned down and mowed through infantry squads (especially lethal when combined with a mortar barrage). Now we have a new dynamic - Anti Tank weapons donning hillsides and covering open stretches of both the barren African terrain, and the green fields of France and Belgium in the original Tide of Iron set. Things are going to go big badda boom.
So many new possibilities and new scenarios of fantastic WWII action that it makes our heads spin.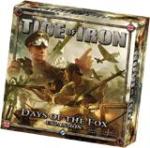 Here are the official details:

"Across the Mediterranean lie the deserts and mountains of North Africa where soldiers of the British and German armies fight the greatest war in human history. Field Marshal Erwin Rommel leads a brilliant offensive against Commonwealth forces, far exceeding his orders and earning himself the nickname "The Desert Fox".

The Tide of Iron line expands with the addition of Days of the Fox. This first expansion for Tide of Iron features the introduction of the British army and the North African campaigns, including new terrain tiles, new rules, new units, and new scenarios.

Nine new geomorphic double-sided map boards.
The all-new British army, including new soldiers and vehicles.
New rules, new scenarios, and new units.

"
Tide of Iron Days of the Fox is now shipping from Funagain Games.
Read More in: Board Games | Gaming News
Share this Article with others:
Related Articles:
Came straight to this page? Visit Critical Gamers for all the latest news.
Posted by Critical Gamers Staff at February 13, 2008 3:13 PM