Spore: Get Some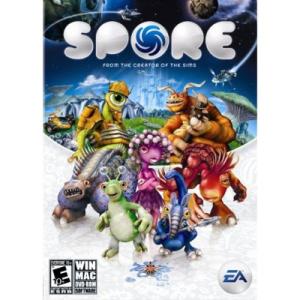 Spore is out!
We haven't been writing about this game before release, for a few reasons:
It's not a board or card game, but a PC Game - the horrors!
It had so much prerelease hype that it was bound to not meet such high expectations when it launched earlier this week (and it sooo doesn't); and
We weren't quite sure that folks you and us would be interested.
We'll you darn well should be because Spore [Amazon] is a really wonderful thing.
If you haven't heard anything about Spore and it's promised riches, here's a quicky summation:
Spore starts you off a one planet in a galaxy of millions, which has just been hit by a comet that has deposited life first life into its oceans. The gameplay kicks-off with you in the control of a small organism as it attempts to fend for itself as a little bugger in a very, very large pond. You'll direct your cute cellular self as it swims away from the bigger mouths trying to consume him, and toward the smaller pray for food, or steer him around the ecosystem of the early oceans collecting plant matter like a cellular Pac Man.
You can customize almost every facet of the creature in a very powerful and simple to sue creature creator. You're almost design this creature out of clay, pulling the spine here, attaching spikes, eyes, mouths and antennae there, etc. Each element you add alters the the creature's ability to swim, defend itself, attack and eat. You can even choose if your creature is a herbavore, carnivore or omnivore. The combinations are nearly endless.
As you continue to play you'll continue to evlove your creature by dding more expensive body parts, changing its shape, etc. And you'll keep this this until it's complex enough to evolve legs, and climb up of the seas. This is where the gameplay shifts to a tribal face where you beging to evolve your creature's social skills with your kin, and then technology, and eventually you'll evolve your creature into the space age.
Yes, the game spans the life of your creature from the dawn of time on your home planet until it can venture out into that galaxy of millions of planets and start new colonies of its own. Watch out though, there can be other hositle creatures created by other players (like us, for instance) that are waiting to eat you in the much, much, larger pond of space.
We haven't played enough of the game to do a full a review, but we're giving it a preliminary 4 stars out of 5 after having toyed with it for the last few days. The game is entirely approachable, strokes the creative side of your brain with a comb made of feathers, and is incredibly fun rewarding. Check it out:

Read More in: Gaming Culture | Gaming News
Share this Article with others:
Related Articles:
Came straight to this page? Visit Critical Gamers for all the latest news.
Posted by Critical Gamers Staff at September 11, 2008 9:31 AM