Settlers of Catan on Xbox Live in February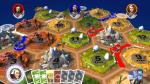 Microsoft, the software behemoth behind the Xbox 360 and Xbox Live service, has released a press release listing their Xbox Live titles scheduled for release this February. On the list is the board game version of Settlers of Catan! The official press release can be read here.
As we reported earlier, Microsoft plans to bring three major board game releases to its Xbox Live service on the Xbox360: Carcassonne, Alhambra, and the Settlers of Catan.
The release of "Catan" in February will mark the first board game release on the Xbox Live service. What has us particularly excited is that the Xbox Live version of Uno become a huge success, and hopefully this line of upcoming Eurogames will also make a big splash in the online gaming community. If so then we can expect to see even more games bridging the divide between Computer/Video Gamer and Board Gamer.
But above that, the most important thing to us will be the chance to play some classics with friends who've moved to all corners of the country! Voice chat will really bring it home. Can't wait!.
There is no exact date for the release of "Catan", but expect it to be released on any Wednesday in February (which is the traditional release weekday for Xbox Live). And of course we'll keep you posted as soon as we find out when the exact date is.
Enjoy!
Read More in: Board Games | Gaming Culture | Gaming News | Variants
Share this Article with others:
Related Articles:
Came straight to this page? Visit Critical Gamers for all the latest news.
Posted by Critical Gamers Staff at January 31, 2007 2:15 PM