Settlers of Catan Expansion Ships in Games Quarterly Magazine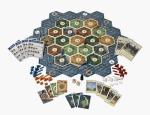 We just got word from Games Quarterly Magazine that issue #10 (August) will include a new Settlers of Catan expansion: "The Great River of Catan".
The Great River of Catan™ is a must for every player. It's die cut with three new hexagonal board pieces exactly matching the game, ten new counters & special rules. Courtesy of designers Klaus and Guido Teuber and the great folks at Mayfair Games.

Gold! No word can inspire in quite the same way. Eager prospectors rush to the banks of the great river, pans in hand, hoping for a glimpse of the storied yellow powder! The gold rush in on in Catan. Can you profit from it? Find out with The Great River variant for The Settlers of Catan. A unique tile introduces the river to the island. Those who build along it's banks stand to profit from the gold craze sweeping the land. But will it be enough to push you to victory?
A year's subscription to Games Quarterly Magazine is just under 16 bucks. That seems like a pretty good deal, too, considering that pays for a semi-official Settler's expansion, AND you'll get a four issues of game news, free games, and expansions. GQM also has hinted that an expansion will ship with November's issue for a nameless (surprise) Rio Grande Game... We're crossing our fingers for Carcassonne.

Read More in: Board Games | Gaming News
Share this Article with others:
Related Articles:
Came straight to this page? Visit Critical Gamers for all the latest news.
Posted by Critical Gamers Staff at May 25, 2006 3:16 PM