Scene It? Comes to the Xbox 360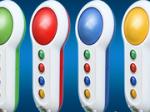 Microsoft continues the trend of brining the world of Social Gaming to the Xbox 360 with a 360 version of the DVD trivia "Scene It?" [Amazon, Funagain], which was announced during last night's Electronic Entertainment Expo Press Conference in Los Angeles, California.
It looks like the Xbox board game adaptations aren't just limited to Xbox Live anymore, as Scene It? will ship in an off the shelf boxed version. Included in every package are four of these colorful remotes which you see here. Sure, they're not made of rugged space-age durable plastic, but you get four in the same box as the game, and at the same price as a standard 360 title. For such lack of cost the visual quality seems A-OK for now-- maybe we'll change our minds when we get our hands on them.
Step 2 is trying to find a place to hide them while we're not playing trivial with the family. Talk about some ugly living room clutter.

But for now we're just happy that Microsoft continues in its attempts to bridge the gap between the modern Eurogame / Board Game / Party Game player and the digital age of modern gaming electronics. There is obviously a market to grow into, and as gamers we couldn't be more happy to see more of these major gaming titles become mainstream in other circles.
Perhaps Microsoft ramping up a framework and consumer base to compete against the Philips Entertaible in the consumer market – whenever that crazy creation is released for the cheap. And you know what they say: product competition is a win-win for the consumer.
No word on when Scene-it? for the Xbox 360 is slated for release. Our initial guess: Christmas 2007.
Read More in: Gaming Culture | Gaming News | Party Games | Variants
Share this Article with others:
Related Articles:
Came straight to this page? Visit Critical Gamers for all the latest news.
Posted by Critical Gamers Staff at July 11, 2007 1:11 PM