World of Warcraft TCG Onyxia Raid Deck Review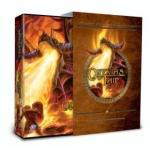 The Onyxia's Lair Raid Deck [Amazon,ToyWiz] for the World of Warcraft Trading Card Came has shipped to stores, and most retailers have finally received enough copes to meet the preorder demand. We picked up our copy a few days ago, and we were like kids on Christmas morning. Immediately we tore into to our copy and ran the game through its paces.
The cards themselves are gorgeous - with some of the best artwork in the game to date. The deck comes in carrying-case that matches the same design as the World of Warcraft TCG Starter Decks [Amazon,ToyWiz]. The black dragon Onyxia is represented by an over sized Hero card, just as those that shipped with the starter decks, and her deck of cards is the same size as the normal WoW playing cards. But they sport a gold framing around them because they're special.
Now - if we were to sum up our experience in two concise words which lack any sort of elaborate details, then we'd have to say: "too easy".
Fortunately we're not dismissive jerks. We feel the game merits a far more detailed and constructive criticism than that, and we're more than willing to break-down our experience a bit more. Perhaps whatever you read here can make the Onyxia's experience a bit more challenging for yourselves than it was for us, and hopefully a bit more fun.
Truth be told - we downed Onyxia on our first go. That's not something that we're boasting. In fact we're a bit depressed about how easy it was. Five of us took our stock Player versus Player decks into a cooperative scrum against Onyxia herself, and although we knew that we had some pretty beefy decks - through our collection-addiction over the last month - we thought that Onyxia would absolutely lay the smack down on us. In fact we were looking forward to losing quickly, lifting our crushed bodies out of the ground, and then working together to organize our decks to make the members of our party more socially dependant We thought that any egotistical and self-centered decks would certainly fail, and the unique experience of the Onyxia Raid Deck was surely in working together to determine our individual roles in TCG party system.
But that just wasn't the case. The five of us - without any deliberate cross-deck combinations - beat Onyxia pretty easily, and we feel a bit robbed of the intended cooperative team-building experience.
To make matters worse, one of us died early-on in the battle - a warlock that essentially lopped-off his own head through a very silly mistake, and placed it on a silver platter for Onyxia to gnaw on (pop-quiz: what happens when Forbidden Knowledge is destroyed?). So for all intents of purposes, we beat Onyxia with only four players: two shadow priests, a druid, and a mage.
Now for the details.
-Spoiler Alert-
Rawr
Whoever plays Onyxia works under some unique gameplay mechanics which makes her inherently more powerful than any other player. First, she draws an Event Card every turn. The event usually does something in her favor, either spawning dragon whelps or dealing all of the players damage. Sometimes it does everyone a small favor, like "everybody draws a card". The event - once resolved - immediately becomes a face-down resource, which means Onyxia will always draw a resource each turn.
Also - Onyxia's hand size is ten, and there seem to be plenty of events and abilities that she can play to make sure her hand is as full as possible, as often as possible.
Finally, her self-buff abilities are out of control powerful. They add to her attack, prevent damage, exhaust allies and heroes across the board, and pretty much make sure that the other players are nervously preoccupied with simply staying-alive, and not focused ond dealing Ony any damage.
The Bad News
But Onyxia has problems with self-maintenance. If you and your friends have any cards that destroy abilities, then you can easily withstand her physical attacks. For instance, a few Confessor Mildreds will make her life a living-hell. We had the lucky chance that our druid also had Spirit Healer in play, which meant that we were destroying Ony's abilities left and right.
Most of our damage to Onyxia came through our abilities that do damage over time, like: Fireball, Pyroblast, and Shadow Word Pain. Onyxia seemed to have a problem shedding these corrosive abilities, and they ended up dealing her more damage than she should handle through the course of a twenty turn game.
Also Onyxia's vanguard - the whelps - seem entirely underpowered. They have 1 attack and 1 defense, which means they don't really hurt for much, and they're easily dispatched. At one point in the game Onyxia spawned 12 Whelps. Sounds impressive, yes, but they didn't amount to muich since they were all immediately dispatched with a simple Frost Nova. Alternatively players coud have played a few Watcher Mal'wi allies, or even a series of Demoralizing Shout would also mitigate the whelps,. In the end the whelps seem like a wash - It would been nice if Onyxia had a way to buff her whelps in the later stages by giving them extra health, or making some elusive, or something.
Also it helped - a lot - that we had three healers in our group. The Priests were fully responsible to making sure the party survived the first two phases of the game. Also, Onyxia went ballistic as soon as our druid played his Spirit Healer, dealing the druid nearly 30 damage in one turn. But due to our abundance of healers, the druid and priests were able to bring the damage down to only ten. In fact, our abundance of healers is what made the game so easy - so if you're looking for a challenge then uh, diversify a bit
.

The Good News
But please don't get us wrong. The entire experience was darn entertaining - our one game lasted nearly two and a half hours. And when Onyxia finally fell to the ground like a sack of meat, we had a great time divvying up the game's treasure chest cards.
The game ships with one treasure pack that is meant to be opened only after Ony has been bested, and each contains 2 Epic cards (purple), 3 Rare cards (blue) and 5 uncommon cards (green). These cards sport a very nice foiling job, and they cannot be found in the standard Heroes of Azeroth [Amazon,ToyWiz] base set, so even these uncommons are pretty freakin' rare. And their powerful, very powerful, so their definitely worth your time. Check out this complete list of the Onyxia Treasure Cards.
Finally - one cool aspect of the game's rules: once you beat Onyxia then you could add any cards from another Onyxia raid deck to buff her up and make her even more powerful. Unfortunately this doesn't help the whole whelp situation, but putting four Shattering Scales into the deck would definitely maker her a challenge even for five players.
Conclusion
The epic battle against Onyxia is extremely entertaining, and the cooperative gameplay is definitely a great change of pace from the standard PvP collectible card game gameplay.
In the end we really did enjoy our Onyxia Raid Deck experience. The game maybe be too easy for a party of five well-geared heroes, and we honestly do feel slightly robbed of a potential cooperative team-building experience that was never required of us. But in the end it might not matter.
If a player has such a large collection of great cards that they've buffed their main hero to the point where Onyxia isn't much of a challenge, then their collection must have room for a lot of lesser hero decks that would make Onyxia more of a challenge. Onyxia will probably eat alternative decks for breakfast.
Even after opening the treasure chest of epic cards (which is the ultimate reward of defeating Ony), the deck's gameplay is strong-enough to lure us back for repeat plays. In fact we've already schedule another session in hopes of tackling her with our 'alternate' (less powerful) characters. And because we're can combine two Ony Decks into a more powerful one, we now expect to get our butts handed to us this second time around. Can't wait.
Rating: 3 stars (our rating system)

Read More in: Collectable Card Games | Gaming News | Our Game Reviews | World of Warcraft TCG
Share this Article with others:
Related Articles:
Came straight to this page? Visit Critical Gamers for all the latest news.
Posted by Critical Gamers Staff at December 8, 2006 10:23 AM