Now Shipping: "Scene It?: 007 Collector's Edition"
Scene-It, the makers of the best-selling video trivia franchise, has hooked up with Q-Labs to bring you the 007 Collector's Edition [Amazon,Funagain] - a trivia game that plays on any common household TV and DVD Player. Think that you're a bigger bond fan than you're father, well now you can prove it.
And it's all here: from Gemini capsule eating rockets, to laser table death traps, to the casino-based ballistic defense simulation with pain amplifying joysticks. Classic.
And if you ever find yourself in a pinch, loosing the game to your kids (who were born in the Timothy Dalton era), then just activate the disc's self destruct mechanism. Simply whistle three times and say "Roger Moore" with a scotch laden slur, and grab some cover. Smashing, yes.
Here's are the officials: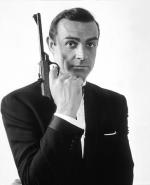 The Company Line: A must for the true Bond aficionado, this Collector's Edition of Scene It? is loaded with new trivia questions, puzzlers, and clips, including images from Casino Royale. This game will even give seasoned Bond fans a run for their money.

Contents:

Collectible Tin
1 DVD
Certificate of Authenticity
Flextime Game Board
Party Play200 Trivia Cards (25% more Trivia Cards)
30 Q Cards
4 Reference Cards
1 Six-Sided Die
1 Eight-Sided Die
Set of Game Rules
007 Collector's Edition [Amazon,Funagain] is now shipping from Amazon and Funagain Games.
Read More in: Board Games | Gaming News | Party Games
Share this Article with others:
Related Articles:
Came straight to this page? Visit Critical Gamers for all the latest news.
Posted by Critical Gamers Staff at April 4, 2007 2:34 PM