Now Shipping: "Emira"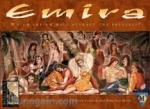 Mayfair Games has announced that their new board game "Emira" [Funagain] is shipping to stores.
Players of take on the role of desert sheiks fighting for resources to build up their own fortunes, palace, and status. During each round, players try to woo once of a various princesses randomly drawn from a deck. The gameplay seems to have stripped-out the historically accurate objectification of women, but still incorporates something not very popular to some in the states - non monogamous marriages, and so the game has stirred a bit of controversy up until it's release. But initial reports suggest the gameplay is tastefully, and more importantly entertaining and rewarding.
The game reviewing machine (with a heart of gold) known as Tom Vasel has written an Emira review, which can be found here. It's a great read, as are the user comments pertaining to the potential knee-jerk reactions of the subject mater.
Emira is currently available to order from the Mayfair Games webstore, and is also available to preorder from Funagain Games,

which should be shipping the game in the next few days. The Funagain game discounts the title's MSRP by about seven bucks, which is a pretty good deal so long as you don't mind a few day's wait.
The Company Line: Emira is a satirical, historically themed game about desert nobles trying to attract princesses to join their household. The game is also the winner of the 1st place prize at the 16th Game Authors Competition of the Hippodice Spieleclub e.V.!

As a wealthy desert sheikh, you have many needs. Perhaps you need a wise advisor, or a talented cook, or maybe a well-organized housekeeper? Or, maybe you seek the romance of a beautiful companion?

But are you attractive enough to convince the princess to join your house and provide you with the skills you need to achieve your secret goals? Only a lucky or resourceful sheikh can hope to welcome an Emira into his palace. Because in this distant desert land, it is the princess who chooses which palace she will join!

As a desert sheikh, you will need to invest in the lucrative spice trade to furnish yourelf with the wealth to improve your appearance, enlarge your palace, and expand your status in the kingdom so that the princesses will choose you instead of another sheik. But you will have to mind your funds carefully: these independent and self-confident princesses will not stay if you cannot provide them with the life of comfort that they have come to expect!
Read More in: Board Games | Gaming News
Share this Article with others:
Related Articles:
Came straight to this page? Visit Critical Gamers for all the latest news.
Posted by Critical Gamers Staff at September 28, 2006 3:21 PM