Now Shipping: "Cineplexity"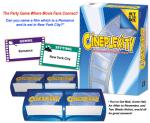 From the publisher of Apples to Apples (one of our favorite party games in a box) comes Cinepelxity [Amazon, Funagain]: the new creative title that will test your ability to make quips of general movie knowledge. This isn't a trivia game, but a word matching game, and so the you don't need to crack open a movie history book and study it for hours to compete. Instead you just need to shout out the first solution that comes to mind.
A solution to what? Well that's easy -- Name a Detective Movie set in Los Angeles! If you blurt out LA Confidential, or Chinatown, or Columbo: Columbo Goes to College, then you'd get a point (and potentially labeled as having no life). Quick! Name a Romance staring Arnold Schwarzenegger. You could shout.. errm.. Predator, or uh.. Total Recall..?
Maybe we should let the Out of the Box Publishing marketing describe the gameplay for this one.
The Company Line: Cineplexity brings movie fans together for delightful movie madness! Each round, players race to name a movie that includes elements from two Cineplexity Cards. Be the first to come up with a title and you win a point. With over 500 cards you'll have hundreds of hours of fresh movie fun!
Cineplexity is now available from both Amazon and Funagain Games.
Read More in: Gaming News | Party Games
Share this Article with others:
Related Articles:
Came straight to this page? Visit Critical Gamers for all the latest news.
Posted by Critical Gamers Staff at March 16, 2007 1:23 PM