Now Shipping "Catan Event Cards"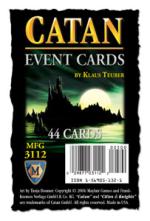 The latest expansion to Settlers has hit store shelves, and it comes in a bit of a different format than you're probably used to. A deck of the Catan Event Cards [Amazon,Funagain] expands upon the classic Settlers of Catan [Amazon,Funagain] board game by adding random events to the game's turns (for complete details check out our story Coming Soon: "Catan Event Cards").
The cards also replace the standard dice used to determine random resource production in the normal game of Settlers, with a new system that eliminates the starvation potential of random dice rolls. Those who've built on a '10' space and waited for twenty frustrating rounds for it to produce anything know what we're talking about.
Here's the official skinny:
The Company Line: Drop the dice and spice up your Settler's of Catan or Cities and Knights games with this new set of cards. The Catan Event Cards feature thirty-six cards that act as a deck of dice, replacing the need for dice in your Catan game. Special events are triggered by these cards each time they are turned over, adding an exciting new element to your Catan play. Also included are 6 scorekeeping cards, the rules card, and a reshuffle card.
Catan Event Cards are shipping now from both Amazon and FunagainGames.
Read More in: Board Games | Gaming News
Share this Article with others:
Related Articles:
Came straight to this page? Visit Critical Gamers for all the latest news.
Posted by Critical Gamers Staff at October 10, 2006 10:55 AM