NESBuckle.com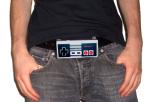 Holy smack. Someone fished a truckload of NES Controllers out of the East River and put them to good use. NESBuckle.com pushes the edge of fashion while being retro at the same time. That's a delicate balance, and it's... intriguing.
Here's NESBuckle.com's company line:

Once brushed off as merely a myth in the video game world, the long rumored, much talked about NES Buckle is now available to grace your pants. Yes, it's a real Nintendo controller, yes, its a real belt buckle, and yes, it will actually hold up your trousers. Get your own now!
There are other varieties too, including controlers from the SNES and Genesis systems. They even have the old school one button Atari joystick (although a joystick-ing out of your lower abdomen is a bit obscene. Best not wear this belt with your Church's Sunday's best).
Read More in: Gaming News
Share this Article with others:
Related Articles:
Came straight to this page? Visit Critical Gamers for all the latest news.
Posted by Critical Gamers Staff at February 23, 2006 10:43 AM