Monopoly and Visa - Is Nothing Sacred?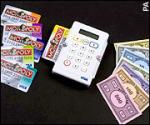 Oh boy. It seems as though The Man has gotten control of Monopoly. Hasbro has decided to get rid of the paper money from the game that taught us all about cash and bartering. In place of the game's low value paper bills, kids will learn the valuable lesson of debit cards, complete with Visa co-branding and the bells and whistles of a nifty card swiping gadget.
"We started looking at what Monopoly would look like if we designed it today," said Chris Weatherhead, a U.K.-based spokesman for Hasbro Inc., which makes the best-selling board game. "We noticed consumers are using debit cards, carrying around cash a lot less."

British players might not be the only ones switching to plastic. Officials at Pawtucket-based Hasbro say they're considering a similar change for American versions. From the Boston Globe
Organizing stacks of Monopoly moola and shoving them halfway under the board was always a wonderful feeling. And counting the individual bills was not only a great math exercise for kids, but made for some fantastic gloating moments. Now the game turns cold, and in a day and age when credit card debt is running rampant, do we really need to shove a toy debit card in to the hands of our kids at such an early age?

Read More in: Board Games | Gaming Culture | Gaming News
Share this Article with others:
Related Articles:
Came straight to this page? Visit Critical Gamers for all the latest news.
Posted by Critical Gamers Staff at July 27, 2006 1:06 PM