"Medieval II: Total War" Demo Released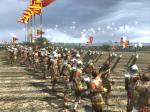 Obviously this isn't a computer gaming website. For the most part we like the socially rewarding boxed variety of strategy games more than the cold disconnected feeling you get from staring into a monitor's warm glow for hours on end. But every once in a while a computer strategy game comes along that's so absolutely chalk-full of board game-esque entertainment that it makes those hours on end in solitude not only tolerable, but something that we thirst after.
Enter Medieval II: Total War [official website], a game that simulates the military conquests and technological evolution of 1000AD-1500 AD Europe, within a map that spans from the west coast of Portugal into the deserts of Asia Minor, and all the varying terrain types in between.
At the start of every game you pick a nation from a list of about 20 historically accurate factions, and the game gives you a kingdom of only a handful of cities to cultivate your empire. Your technology starts in the early Medieval period when towns were mostly surrounded by wooden walls. From there you can set out in a turn based mode to make good (or bad) relations with your neighbors, fight wars, convert enemies to your religion, antagonize or support the Pope, pump out new units to outfit your armies, build infrastructure, and discover new technologies, weapons and units. And when we say new units, we really mean it - the game contains over 100 detailed unit types with special abilities, weapon types, tactics -- the works.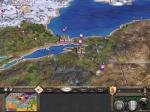 When your armies clash on the world map the game enters into a detailed battle view. Here you will control the formations of your troops - lining up spearmen to block cavalry charges, charging in your swordsmen to break up enemy lines, launch arrow barrages, and batter castles with siege equipment or pepper them with flaming arrows.
If you've ever been a fan of block war games, then this one animates that type of game into living color. The battle mode of Medieval 2 features fully detailed units who march under flowing banners, hack off limbs, send heads flying, and who suffer to (or are bolstered by) morale effects.
This game is a complex, but the series has been in-place for years so they have a very refined and entertaining tutorial system. The final game ships this November, but the demo was just released! Download it now (for Windows Only) from any of these various gaming download websites:
Medieval II: Total War Demo:
Read More in: Gaming Culture | Gaming News
Share this Article with others:
Related Articles:
Came straight to this page? Visit Critical Gamers for all the latest news.
Posted by Critical Gamers Staff at October 11, 2006 3:00 PM