Lord of Ultima Enters Open Beta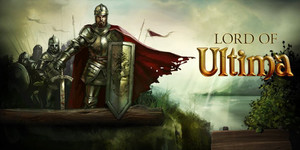 A long long time ago we had this game that we were extremely addicted to: Travian. The game allows you to build villages, create an economy, start wars with neighbors, and band together with friends in patchwork Kingdoms to ensure survival.
Lord of Ultima seems to be another browser-based Travian clone, but with large steps forward in graphics and interface. Honestly it makes Travian look like a pile of steaming poo. There also seems to be a faster payoff with Ultima. Your first buildings will be completed in no time, and you'll be rolling in the resources and upgrading your little medieval village like Romans on crack.
It's unclear at this point regarding how much of the Ultima fantasy setting will play a role in the game. The early gameplay seems to be more medieval in focus and less.. fantastic. Hey, the beta just started, we can't have all the details yet!
But we can say that if you were a fan of Travian, or if you like Facebook games where you can groom your civilization with friends, then Lord of Ultima is definitely worth a look.
Read More in: Gaming News
Share this Article with others:
Related Articles:
Came straight to this page? Visit Critical Gamers for all the latest news.
Posted by Critical Gamers Staff at March 22, 2010 5:20 PM