Icon USA Price Meltdown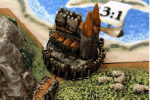 IconUSA.com has a pretty hefty discount going on today. Some items that were already on sale are now discounted by 10% more. We're too lazy to do the math to figure out if that 10% of the sale price, or the original price. Either way, there are some overstocked items for dirt cheap here, including LoTR TCG cards, Star Wars Attactix figures, as well as other collectibles as Icon USA clears through Inventory.
But the prize of this list is the Settlers of Catan 3-D 10th Anniversary Treasure Chest, which kicks the Settlers Experience up to 11 with a 3rd board and nice wooden carrying case. The chest is usually 400 bucks, which is crazy, but with this discount it's a bit more manageable. As of today it's about 250. Christmas shopping could never begin too early.

Read More in: Cheap Deals & Sales | Gaming News
Share this Article with others:
Related Articles:
Came straight to this page? Visit Critical Gamers for all the latest news.
Posted by Critical Gamers Staff at May 2, 2007 2:12 PM