"Havoc: The 100 Years War" Expansion Ships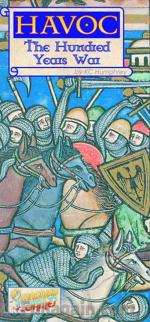 A few weeks ago we posted our hands-on of Havoc: The Hundred Years war. Overall we were impressed with the title. It's pretty solid and we'll certainly play it numerous times again for a full-on review.
Now, we were just on Funagaingames.com wasiting-away a Sunday afternoon checking-out what's new, and we stumpled upon news that the Havoc Expansion just shipped! Oh my! Where did that come from?
The Company Line: his is the first expansion for Havoc: the Hundred Years War. It includes a new type of character card, which is shuffled into the regular card deck and changes the game in interesting ways when one of them is drawn. For example, the John of Gaunt card, when drawn, joins the game as a player and starts a battle called The Chevauchées (a group of plundering raids.)

This expansion includes the premium cards that were given out at the game's release in Essen Germany in 2005, and at the first BoardameGeek Conference in Dallas, Texas. In addition to these, a new card not seen before has been added, as well as two extra Dogs of War which can be added to the game or used as blanks for players that want to try out character ideas of their own. The poly bag that comes with the expansion can also be used to store the tokens that come with the original game.
Sounds tasty. We'll make sure to devote some time to the expansion when we review Havoc next month. Until then, you can checkout the expansion yourself -- it's sold exclusively at FunagainGames.com (as is the original).
Read More in: Board Games | Card Games | Gaming News
Share this Article with others:
Related Articles:
Came straight to this page? Visit Critical Gamers for all the latest news.
Posted by Critical Gamers Staff at May 8, 2006 10:10 AM