Grooming Those Fragile Little Egos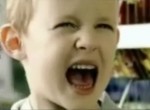 Early-on kids learn the delicious jive of smacktalk from their peers , but before that there's a small window when their only opponent is a parent. As an adult, you're (usually) a better gamer than your child, so you have control over the ultimate outcome of the game. Do you fold your cards when you're ahead so your child doesn't develop self-esteem issues, or do you win hoping that your child learns the art of a graceful loss?
Tough question. We're no Doctor Spock, so we don't have the answers, but there's a great article and discussion on this very topic over at BloggingBaby.com.
Read More in: Gaming News
Share this Article with others:
Related Articles:
Came straight to this page? Visit Critical Gamers for all the latest news.
Posted by Critical Gamers Staff at January 10, 2006 6:59 PM