GamesByEmail clones classic Diplomacy with "Politics"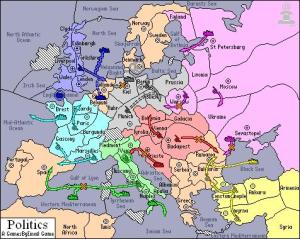 The gaming site GamesByEmail has been running browser based games for years. They first hooked us with their Risk clone Gambit, which made us huge fans of the site. We hadn't had a Risk stomp like that in while. Then we were totally addicted to WWII, and played nearly 70 rounds of Axis & Allies games. Yes 70. We became A&A crack addicts almost overnight.
We've had innumerable killer 80's flashbacks on GBE without all the mess of a) having a real flash back, and b) setting up and playing the original board games. We love those original titles, but they're a cursed turbulent sea of precarious pieces which sometimes make us just wanna SMASH stuff when the dice, or elbows, or falling scarfs hit the stacks of chips and pieces like a giant deus ex machina doomsday device.
Thankfully GamesByEmail exists completely within a browser friendly environment. No downloads, no connecting emails, or running Unix listservs to auto judge gaming sessions. And over the last year the GamesByEmail labs have been working on their latest title Politics, this time brining a clone of the social backstabbing granddaddy of strategy war boardgames Diplomacy to the virtual table. And though it was just released, it's looking pretty darn sweet.
Players can either sign up to the existing games that pit strangers against strangers, or create their own amongst their group of friends. The game works entirely in a browser, which completely rocks. Not only is the map functional and colorful (and colored like a classic map from StrangeMaps), but you don't have to worry about emailing turn orders, or having an anxious panic attack while trying to formatting them properly for an auto judge. Gaming session also sport private chat options for you luring in enemies with a man hug, and then showing them just how good your letter opener is at shivving backs.
The games themselves has configurable turn length keep things timely, and includes an auto judge for detecting collisions and determining bounce back rules. It's a complete Internet based point and click Diplomacy package that runs on any machine!
Read More in: Board Games | Gaming News | Variants
Share this Article with others:
Related Articles:
Came straight to this page? Visit Critical Gamers for all the latest news.
Posted by Critical Gamers Staff at April 7, 2008 12:34 PM