Galactic Destiny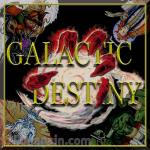 Golden Laurel has released Galactic Destiny [Funagain] - a sci-fi space strategy game where players set out to manipulate their opponents, build fleets, and conquer or campaign through the galaxy to become the most predominant political party on the board. The gameplay stresses social interaction and sneaky thinking over standard war strategy games.
Still the game does a good job dancing the line of balance between of those two niches. Picture the theme of both war and planetary expansion from Twilight Imperium, mixed with the with the cunning, social, and sinister gameplay of Diplomacy. Warfare involves a throw of the dice, but the math is easy and the battle ends in just a few moments.
A major of the game is centered around the game's senate. Players control and play Senator cards to act as the player's hands in voting in new laws, or in campaigning for new sectors to join their political party (players win when they control 10 sectors). The senate is also where the soul of Galactic Destiny lies: every turn in the Senate phase players levy taxes, put other senators on trial for corruption - both for the good of the empire of course - but players may also create entirely new laws which completely change the rules of the game. Sure, there are some limitations, of course, but Galactic Destiny acts as a framework for you and your friends to mold the setting and dynamics of the gameplay into any way you so wish. Those players who feel cornered by these new rules - or who find themselves losing the good battle - can storm out of the senate and join the rebellion. With all ties severed they can completely ignore senate laws and regulations, with a few key social detriments obviously.
But before we get going full steam - we have to remind ourselves that this isn't a review - not yet anyway. We'll have our praises and critiques in a few weeks. Until then we thought you should know that this interesting and semi-heavy game is out on store shelves nowm, and is dying be played by gaming groups with strong social circles.
Here's the official word:
"In a new galaxy with many civilizations, the six political parties struggle for dominance. Some quest for Enlightenment, some fear or relent to the demonic Infestations of another plane, but all seek to sway the cosmos to their views. More interactive than any board game before, the rules system of Galactic Destiny invites players to a new depth of strategy and intrigue."
Contents:
70 modeled ships in 3 unique designs
50 full-color senator cards
A complete Galaxy
Intuitive and versatile rules
Good BGG User Reviews: