A Pair of "Storm of Swords" Preview Articles at Fantasy Flight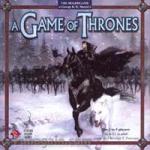 Fantasy Flight is once again hard at work publishing details about their "Storm of Swords" expansion to the succesful "A Game of Thrones" strategy game.
Each article focuses on one of two Houses and how their House and leaders cards will effect game dynamics in the expansion. House Greyjoy's article details their mastery of the the quick raid, while House Martell loves the bring the full-on smackdown.
We have to be honest with you - if you're not already a fan of the Song of Ice and Fire novels from George R.R. Martin, and if you're not a fan of the A Game of Thrones games, then these articles don't have nearly enough substance to gather your interest. However, those true fans get a nice glimpse of the cool stuff coming down the pipe this June.

Read More in: Board Games | Gaming News
Share this Article with others:
Related Articles:
Came straight to this page? Visit Critical Gamers for all the latest news.
Posted by Critical Gamers Staff at May 5, 2006 10:11 AM