Eberron D&D 4th Edition Guides Hits Shelves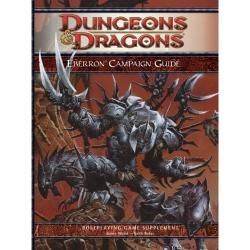 This is pretty momentous day for D&D 4th Edition. Just over a year after its launch, the 4th Edition of the mainstream RPG has released one of its flagship settings with the Eberron Campaign Guide [Amazon]. The guide includes maps, faction background information, characters, monsters, the works. Joining it is the Eberron Player Guide [Amazon] (released in June) which includes new classes, races and feats for players to use in the 'film noir' inspired fantasy campaign setting.
Ask any 3rd Edition D&D players and Eberron would most often their setting of choice. It was even the campaign setting of choice for the D&D Online (which just became free to play). We're pretty old school ourselves, loving the Forgotten Realms setting, but our money says Eberron is mainly where the future of D&D lies.
This new Campaign Guide lets any group's DM get up to speed with the new details of Eberron's setting, as well as carve out their own adventures from scratch with a slew the aforementioned list of the guide's resources.
If you want to peek at what you're getting for your money, then check out the Campaign Guide's official webpage with has links to excerpts from the book. These include sample maps, region descriptions, and preplanned encounters if your DM needs some inspiration, or on encounter mechanics in the setting.
Here are the official details:
---

The Eberron(R) world moves into 4th edition D&D(R)!

This books contains all the information any DM would need about the world of Eberron. This exciting world is complete with soaring cities, viscious wars, and a gritty mean-streets style that harkens back to the traditions of film noir.

The Eberron campaign setting is updated into the 4th edition D&D family with the Eberron Campaign Guide. Featuring all of the character elements from the core rulebooks, this updated version of the Eberron world is a must for any gamer that likes the magic-as-technology, film noir, high-adventure campaign setting that was chosen from over 15,000 game submissions.

---
Read More in: Gaming News | RPGs
Share this Article with others:
Related Articles:
Came straight to this page? Visit Critical Gamers for all the latest news.
Posted by Critical Gamers Staff at July 21, 2009 5:41 PM