D&D Sourcebook Review on Slashdot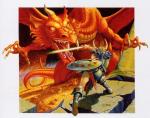 The boys over at Slashdot games have done a great rundown the D&D and GURPS source books released during the last six months. They have a great opinionated synopses for each title, so you should give it a ready before you buy any of these following titles:
Spell Compendium
Races of the Dragon
Magic of Eberron
Heroes of Horror
GURPS For Dummies
GURPS Space
A Player's Guide to Ptolus
We're a bit surprised that they slammed the Sell Compendium so hard. It's actually pretty good deal considering you get all the spells from all the books, without having to buy the whole library. But to each their own.

Read More in: Gaming News | RPGs
Share this Article with others:
Related Articles:
Came straight to this page? Visit Critical Gamers for all the latest news.
Posted by Critical Gamers Staff at May 10, 2006 10:10 AM