D&D Creator Gary Gygax Dies at Age 69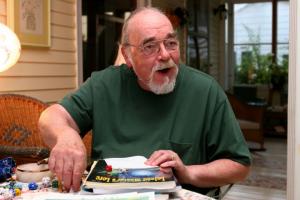 News is going around the web like wildfire that Gary Gygax passed away in his house at 1:00 am this morning
This is definitely sad news. Gary Gygax founded the publishing house TSR, and was a major force behind the original D&D and Advanced D&D in the 1970s. He helped shaped the imaginations of our youth while we grew up in he 1980's. We had so countless days of fun playing within the worlds he created, that this news of his passing hits us like a lead brick to the chest.
After leaving TSR in the mid 80's Gary went on to form a new RPG system named Dangerous Journeys. It wasn't nearly as commercially successful of a system, probably because it sported a thick rulebook and some complicated rules. But this complication lead us down an unexpected path of liking Gary Gygax even more.
Two of us wrote to Gary himself (via his publisher) in the early 1990s asking for a Dangerous Journeys rules clarification. There wasn't an argument to be settled, we just wanted some clarity on a key element with confusing wording. Sure, label us dorks for trying, but one day we sat down bored and thought, "why not ask Gary?"
We honestly didn't think we'd get a reply, but a few months later we received a response from Gary himself - in the form of a Christmas card. Not only were the rules clearly explained, but he offered an apology for being overly verbose in the first place, and offered a hearty Seasons Greetings. Penned by Gygax himself we were floored, and filed that card away for extra long safe keeping.
Thanks Gary, for you gaming genius, creativity, drive, and for being such a stand-up guy.
Read More in: Gaming Culture | Gaming News | RPGs
Share this Article with others:
Related Articles:
Came straight to this page? Visit Critical Gamers for all the latest news.
Posted by Critical Gamers Staff at March 4, 2008 1:43 PM