D&D 4th Edition Power Cards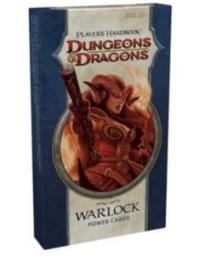 We've played quite a bit of D&D 4th Edition since the game launched last year, and we've been big advocates for printing out your own series of power cards. It's easy to quickly glance to see what sort of super human move you can make at any given moment when your 'hand' of cards is splayed-out on the table before you. They also help you keep track of state, and provide quick rulebook lookups if you spent enough time lovingly crafting them.
While we've printed a few from the interwebs, and made our own little bootlegged index cards, the actual quality of these self-made productions leaves much to be desired. Sure, the fault lies with us since we're the ones who made them. And as the old saying goes, Time is Money, and we're happy to see that there's an official indoctrination of the cards coming from Wizards of the Coast are at a small target price. 100 cards for each Character class for under 10 bucks. Not too shabby.
The cards themselves are about the size of your normal TCG / CCG game (like WoW or Magic); sport a colored background that makes them easily sortable based on power type, like At Will, Encounter, Daily, etc; and contain all the rulebook rules for each of a class's powers. There also quite durable and should survive well to the accidental coffee spillage that we seem overly prone to.
The question really comes down to: do you think 10 bucks is worth the time spent drawing up cards, or time and materials it takes to print out paper sheets and cut 'em up into cards. For us the answer is certainly 'yes' especially since the results sport a higher quality than our crappy paper cutouts.
The only downside: the classes from the Players Handbook 2 have to wait until August before they get their respective Power Card releases. We're not quite sure who thought that was a good idea. Bah.
We'll check back in August when the Power Cards are released for all of the Players Handbook 2 class abilities.
Read More in: Gaming News | RPGs
Share this Article with others:
Related Articles:
Came straight to this page? Visit Critical Gamers for all the latest news.
Posted by Critical Gamers Staff at March 24, 2009 5:05 PM