D&D 4th Edition Insider Screenshots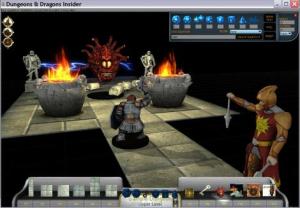 Surfacing this week are screenshots of the D&D Insider - the digital companion piece to the new Dungeons and Dragons 4th Edition release this summer. Sporting voice chat, character generation, dungeon generation, and the full functionality to host adventures online, this new component to the D&D arsenal could be ground breaking. Not only should it speed up session preparation, it should also provide some visual depth to player created worlds, allow folks to save sessions in-place when things are getting late, and - best yet - be a place where friends can play D&D with their childhood buddies who've moved to long distant parts of the country.
Unfortunately we have some critiques so far:- these images are pretty dippy looking. Seriously. We love the fact that you roll your character, and post him online, or create a character sheet print out with a character portrait to boot. Good stuff. The problem is this: The character rmodels look like plastic dolls with sloppily added pieces of equipment slapped on there last minute. The screenshot of chap in full-plate has skin showing around the neck. Holy moley folks! It screams lack of polish. Forget about the lack of protection in one of the body's most vulnerable parts, but is he not even wearing a shirt beneat there? Think of the horrible nipple chaffing action.
And then there are the dungeons they show. They look like so bare bones, empty, and uninspiring... considering they've had months to prepare these images. We know they could do better, too. In fact, the editor looks a heckovalot cooler in this video captured back in October - about 4 months ago.
Why does this concern us? Well part of the charm of D&D Insider is its ability to download polished content created by Wizards of the Coast, who will publish modules online on a regular basis. But if this is the example of their handiwork, then maybe that feature has been overstated.
We're still excited about the potential of D&D 4th Edition's Insider tools for all reasons we mentioned in the opening paragraph, but we really hope they do a standup job with the content. These screenshots don't sells us, instead they make us wary.
Read More in: Gaming News | RPGs
Share this Article with others:
Related Articles:
Came straight to this page? Visit Critical Gamers for all the latest news.
Posted by Critical Gamers Staff at February 27, 2008 1:37 PM