D&D 4th Edition RPG Classes First Look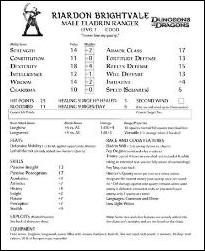 Wizards of the Coast hosted a D&D Experience last weekend where they took the lid off D&D 4th edition. A few things have spilled out of the exciting weekend. Our favorite so far: these scans of character sheets posted on Picasa. They're so worth your time.
One of the goals of D&D 4th edition is to streamline play and add deeper combat mechanics, and while these sheets cover the stats of all the major classes, they more importantly shed some light on how the class abilities will effect combat positioning and turn order. For instance, the fighter and rogues contain abilities to maneuver opponents into position, and the fighter gets bonuses to strike two adjacent foes in one turn. Additionally, these abilities allow the front line troops to slide foes into a position to shield weaker ranged party members from ranged enemy NPCs.
Combat will be more dynamic than before, with groups jockeying for position. Some people have commented that this requires players to play combat on a hex grid, which takes away the ability to easily play D&D with just a pencil, some paper, and a dice. But honestly - we love the idea of mixing combat strategy into our favorite fantasy RPG of all time.
We also see glimpses of the new Warlock class (photo 1 and 2 of the set) and some Fey and Psychic abilities that toy with the minds of enemies, allowing the warlock to vanish from the minds of opponents for a turn, or to both suppress enemy abilities and damage them for good measure. We assume Shadow abilities will also be part of a potential warlock build when the players handbook launches in a few months.
The Wizards class (photo 11 and 12) has been overhauled considerably too. In an attempt to give Wizards something to do every turn, low level spells like Magic Missile are now "at Will " abilities, which means it can be cast as often as the character wishes. It seems it also packs quite a punch now, too (2d4+5) though if we're reading this right then it no longer scales as the character increases in levels.
But that's one of the great things we like about what we see here about the new rules: in any given round there are now tons of options for every character. No longer will the Fighter simply roll dice in a miserable drab and repetitive "game" of hit or miss. Instead they'll be controlling the front lines of a fight while hacking away. Paladins will be blessing nearby allies with righteous swings and pulling monster focus away from other players. Rogues will be tripping foes and maneuvering through the cracks of the melee as they dance around the fight. And no longer will Wizards become bored when their catalog of tricks empties for the day- instead they'll have a few bags, where some key abilities are ever-present, but the big fireworks have to be used and consumed at clutch times.
You might have notice that the Rogue doesn't make an appearnce in any of the sheets. We figure it's becuase Wizards of the Coast had already covered the juicy details of the class in this Rogue Preview Article.
Aside from the class and racial abilities showcased in these Picassa images, one thing we found noteworthy about thecharacter stats is the massive amount of hit points these characters now have (low 20s to low 30s). Considering the new heal mechanics (photos 13 and 14) we think combat in the early levels might be more of a contact sport than before.
Which sounds absolutely awesome. This all sounds incredible. Color us excited. We can't wait.
Read More in: Gaming News | RPGs
Share this Article with others:
Related Articles:
Came straight to this page? Visit Critical Gamers for all the latest news.
Posted by Critical Gamers Staff at March 5, 2008 3:15 PM