D&D 4th Edition Character Builder hits Open Beta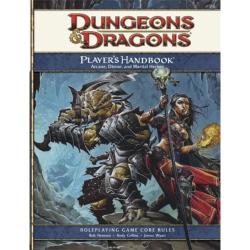 Remember back in the day when we saw a first glimpse of D&D Insider, a suite of computer tools for D&D 4th Edition that included everything you ever wanted: character creators, monster creators, map editors and even a 3D game client to play the slick new edition with your friends across the country? Yeah, well none of that was ready in time for the product's launch.
Now Six Months after release, Wizards of the Coast has posted an Open Beta of the D&D Insider Character Builder, which will not be free at launch so we highly recommend that you try them out now while they're free.
We're afraid to say that from the get-go we weren't impressed with the level of craftsmanship of this release, even in beta. Most of our beef comes from the installer:
First it defaults to installation on your Desktop, which is probably one of the worst places to install anything by default. Oh wait, it wasn't installing! It was just downloading more files and then automatically installing where it wanted to. Super, and strike 2. Then after a long pause the installer claims to require a reboot..! Are you kidding me? We're shopping for a top notch character generator here, not something that hooks into our Windows System. We're beginning to wonder just what other payloads were attached to the installer that required a system reboot. Ugh. We ignored the request, launched the Character Builder, and started poking at it with a stick anyway.


The Editor itself has a clean look to it. The flow is a bit off in some places with numerous subsections per pane, and that may confuse some users first time through. However, once someone quickly learns the flow, the tool is quite powerful.
The system provides a sidebar that is a well-formatted entry of any highlighted race, class, ability, skill, equipment, etc entry pulled straight from the applicable source, whether it be the D&D 4th Edition Player's Handbook or another piece of source material. It also provides a link to the D&D compedium which currently holds the same information, but in the future will also include user generated content, hints and tips about how to use the specific feature and ability in your game, etc. Some details are currently missing for some of the more obscure abilities and gods, for instance. But hey - it's beta, and we're not that die hard to cry foul on any missing entries we came across.
The Generator also does a good job of fading out the abilities and feats that aren't yet available to your, or the weapons that he/she isn't trained to use. It's still difficult to fully appreciate the prerequisites for the feats, and so mapping out a goal to get your character to a specific feat still remains quite difficult in the current formatting.
As a nice bonus the Character Generator also allows you to select some of the monster races; and we put it through it's paces by making a Kobold Devout Cleric just to see how it panned out. It went completely smoothly, so that opens up all sorts of great quick one-off NPC creations for DMs as well.
The Absolute Best Thing of All (tm) is that the generator creates a full fledge character sheet, with all your stats, etc precomputed. The best part is this though - an additional sheet is generated that includes all of your abilities, character attribute bonus, and the the official text and rules of each ability one slick little sheet. You can either print it as is, or cut each ability out to use them as tap-able cards in encounters which is our current style. We've been looking for something like this for a while, and now that we have the official version of it in our hands, it'll be hard to go back to anything else.
In the end - is the Character Builder as it exists in beta worth a monthly subscription? Probably not on it's own, unless you keep pushing your character to the brink of destruction and take that extra step into death. After all, how many characters do you plan on making per month?
However, as part of a larger service, we could see this being one of the many great little features that come within a suite of many. And with the still unreleased DM tools subsisting as the major bulk of such a service, the question still remains if D&D Insider would be worth the dough.
Read More in: Gaming News | RPGs
Share this Article with others:
Related Articles:
Came straight to this page? Visit Critical Gamers for all the latest news.
Posted by Critical Gamers Staff at January 5, 2009 12:42 PM