D&D 4th Ed. Deluxe Handbooks - Something to Avoid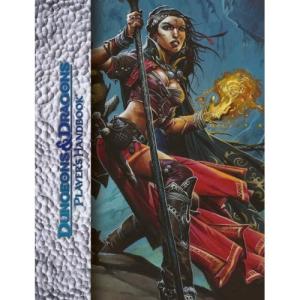 Months after release of the original D&D 4th Edition Players Handbook, Wizards of the Coast has shipped a collector's edition of the same source material: the D&D 4th Edition Deluxe Players Handbook [Amazon, Funagain].
And that's the the the problem - it's the same exact source material. Sure, it sports a new foil cover and embossed pages, but it doesn't ship with anything usefully new. At this point we're knee deep in D&D goodness, and if you're not going to bring anything new and useful to the table, then you're just something the stare at.
And the Deluxe edition isn't even strong in that capacity. The foil cover doesn't impresses us at all. In fact, it's straight-up ugly. And as far as the actual art on the cover: all they did was cut off half of the original cover, and focused in on the hot chick. Did they Photoshop this in just one afternoon? It's like they're phoning it in.
If Wizards of the Coast had shipped some sort of gold-embossed leather bound edition, then just maybe it'd be worth the 75 bucks MSRP. Just our $0.02.
Here are the book's official details:
---

"The first of three core rulebooks for the 4th Edition Dungeons & Dragons Roleplaying Game.

These deluxe volumes are special editions of the 4th Edition core rulebooks that every Dungeons & Dragons player and Dungeon Master can appreciate. These books feature embossed, premium foil covers, and premium, gilt-edged paper."

---
Read More in: Gaming News | RPGs
Share this Article with others:
Related Articles:
Came straight to this page? Visit Critical Gamers for all the latest news.
Posted by Critical Gamers Staff at October 27, 2008 3:24 PM