Critical Gamers' May 2009 Board Game Roundup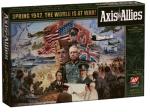 Spring is in the air, and in the board gaming world that means releases are about to slow through the summer months. That's cool though, because this past Winter has had a lot of great releases. Spring also means that publishers are revealing new titles meant for Holiday 2009.
We've already gotten world of the next baseline iteration of Axis & Allies: 1942, which is based on the rules and alternative setup of the A&A 50th Anniversary Edition, and will replace Axis & Allies Revised as the new mainstay of A&A gaming.
Also recently announced, and soon to be published, is the cooperative board game Space Alert, which challenges players to keep their spaceship alive throughout a series of astro crises. Each crisis is pulled from a variety of decks, and is queued from unique audio CD which sports atmospheric music on special tracks, each one with a different pacing of events and card draws. Initial reports of the game have Space Alert being one of the best games of the year, and has already made the Dice Tower's Game of the Year Nominee list (the game had limited availability at trade shows last year).
This month also saw other notable announcements, like a new Lord of the Rings game Middle-earth Quest, the announcement that Death Knights will be rolled into the next World of Warcraft TCG release, and release of the latest Memoir '44 expansion: Tigers in the Snow & Operation Market Garden.
Good Gaming Folks!
Board Games
Collectable Card Games
Gaming News
RPGs
World of Warcraft TCG
Read More in: Board Games | Gaming News
Share this Article with others:
Related Articles:
Came straight to this page? Visit Critical Gamers for all the latest news.
Posted by Critical Gamers Staff at June 1, 2009 1:45 PM