Condottiere 3rd Edition Website Launches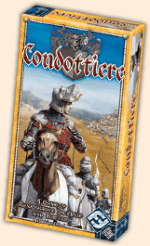 In our humblest of opinions, the game of Poker requires money to be fun. Without stakes, and the ebb and flow of pots, what element of Poker acts as the glue that lends a story to the night's series of hands? Absolutely nothing, that's what. Plus, in the world of modern family games, you wouldn't want to take a step backwards and play a gambling game with your kids, would you?
There have been a few card games over the years that have tried to create a meaningful setting around the Poker style of play. These games usually remove the morally confusing elements of betting in the process, which makes them family safe. We're talking about Collectible Card GAmes, either. We're talking about cards games that involve the standard circle of friends, gabbing some beers (or soda with the kids), sitting down, and bluffing your way to victory. Havoc: The Hundred Years War immediately comes to mind, as that seems to be the most recent popular title to meld together Poker with modern gaming elements.
But around the same time that Havoc was released, there was a similar title called Condottiere [Funagain], which was a winner of the 1994 Concours International de Créateurs de Jeux de Société (that's French for "good") award, thing. And now publisher Fantasy Flight Games has picked up the rights to print the 3rd edition, and they've just launched their official website showcasing their latest face lift of the game.
The Condottiere series is centered around the warfare of the various city states in Renaissance Italy. The term Condottiere stems from the mercenary army commanders of the time period, employed by the various city states to act as their hand in the field of battle. The new edition sports new art work, and new game elements and card types, but we're not yet sure of any of the specifics. Still - even if the changes are minor tweaks those who are new to the game will find plenty of good stuff to be had (if it's new to you!).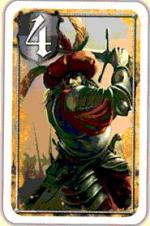 Players of Condottierre will immediately find similarities to Havoc: The Hundred Years War, but under closer inspection tthey'll find even more things different. In Havoc players partake on a series of pokeresque rounds of play. Each round represents one battle, and players aim to take a series of battles of to collect the most victory points in order to win the entire war. Condottiere swaps out the victory point structure for a meta map depicting the regions of Italy as they existed during the Renaissance. Whoever wins a round takes a territory, but also becomes the Condottiere who chooses the next region to fight over. The winner is the player who can connect 3 territories in a row.
We know this sounds stupid, but: we seriously like meta maps. Like a kid drooling over an oversized lollipop, we stare at meta maps with widened eyes. And the great thing about this one, it's in game where you wouldn't expect it to otherwise appear. What else brings meaning to a series of poker hands? How about a territorial map with Italian city states carved into it waiting to be conquered?. Heck yeah. That'll do.

Within each battle players take turns laying cards of various point values, each increases the strength of their forces in the territory. A player may pass at any time, thus leaving the field defeated, and losing all of the forces played in the process. A battle ends when all Players pass, and the winner is the one who has the highest point total.
There are some random card game elements that keep on your toes, too, such as cards that suddenly weaken certain types of forces with adverse weather affects, or morale boosters which double the strength of other card types. With these tools you can show weak for numerous rounds, only to show strong in the end. Choosing when to play these cards in a round, and mastering the art of coaxing your opponent into over extending themselves in one battle, only to kick their butt in another, is all part of the game. This game is indeed, pretty deep.
But don't just take our word for it. Those of you interested in Condottiere should checkout the BGG page for the title, which has around five user reviews for your perusal.
Here's the official word:
The Company Line: In Renaissance Italy, armies of mercenaries fought to conquer the fragmented city-states for the highest bidder. Elite mercenary leaders, known as Condottiere, led these armies to victory under such fabled banners as Medici, Sforza and Colleoni. Recreate this era as you, an elite Condottiere, strive to carve out your own Renaissance kingdom! Using a unique deck of cards and a map of Italy, you must exploit the assets in your hand and thwart the traps set by your adversaries. Your task is difficult, your mercenaries are unreliable, the Church may intervene, and you are surrounded by others who envy your position! This game is loaded with intrigue and subterfuge. To win, you must be both a clever diplomat and a daring general. Succeed at both, and you will triumph! Fantasy Flight Games is proud to publish a 3rd edition of this classic bluffing game. The new edition features new art, new card abilities, and new rules to enhance game play.

Condottiere 3rd edition is set to ship in June 2007, and is now available for preorder from Funagain Games.
Read More in: Board Games | Card Games | Gaming News
Share this Article with others:
Related Articles:
Came straight to this page? Visit Critical Gamers for all the latest news.
Posted by Critical Gamers Staff at April 3, 2007 4:15 PM