Colosseum Reviews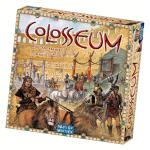 The foundation that has been laid for the of the upcoming release of Colosseum [Amazon, Funagain] from Days of Wonder is a bit shaky. When the game was first announced back in January there was quite a bit of praise going on for the game's components, gameplay, and generally the potential of this family oriented game. Plus, the game's announcement was riding alongside the news that one of office's favorite water cooler shows, Rome on HBO, was canceled. We suddenly found a gap on our ancient Roman interest, and Colosseum seemingly arrived just in time with swinging gladiators, artist performances, regal nobles, and dynamic amphitheater fun. There's nothing quite like a extended bleacher section of bloodthirsty fans cheering on a gladiatorial battle of ravenous lions chewin' on men with sharp swords.

But then there were some mixed reviews of the game as it toured the tradeshows of early 2007. Players and critics with hands-on experiences weren't drooling over the game as much as they had anticipated. There wasn't a huge hype machine to live up to, but yet there were some inherent expectations that set the bar high. 1: The game will be published by Days of Wonder, who have a knack for producing fun family friendly games, yet deep with strategic options, with top-notch pieces, solid rules, etc. And 2: the game was designed by Wolfgang Kramer, a very well-established and renounced designer. But still, lots of early critics left their gaming table with a bit of a intangible bad taste in their mouth.
There was some uneasiness by us about how the game would hold up in the end. With only one week before the game's scheduled release, we're starting to see the appearance of reviews of the finished copy of the game. And thank goodness the reviewers once again seem to be jutting their thumbs enthusiastic upwards. Here are some reviews that we think worth your time:
Colosseum Reviews
Tom Vasel from The Dice Tower [link]
RPG Net Review [link]
Randall Silver User Review in BGG Forums [link]
Our Other Colosseum News
Read More in: Board Games | Gaming News
Share this Article with others:
Related Articles:
Came straight to this page? Visit Critical Gamers for all the latest news.
Posted by Critical Gamers Staff at May 21, 2007 3:24 PM